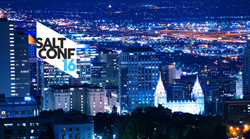 SaltConf16 is sold out as the largest gathering of SaltStack customers, partners and community converge on Salt Lake City for modern IT orchestration, event-driven automation, DevOps and configuration management.
Salt Lake City (PRWEB) April 20, 2016
SaltStack, the creators of intelligent IT automation for complex infrastructure at scale, today announced SaltConf16 is officially sold out and has become the largest gathering of SaltStack customers, partners and community focused on intelligent infrastructure orchestration, event-driven IT automation, DevOps and configuration management at massive scale. SaltStack is proud to host more than 575 attendees at the The Grand America Hotel in Salt Lake City this week.
The SaltConf16 program includes more than 70 keynotes and breakout sessions with dozens of SaltStack use cases presented by SaltStack customers and users and in-depth tech talks from the SaltStack brain trust. The speaker lineup includes talks from companies like Aetna, Dun & Bradstreet, Dutch Government data centers, Hewlett Packard Enterprise, IBM Cloud SoftLayer, Lyft, Pure Storage, National Instruments, SUSE, USDA, Virtustream, VMware and dozens more.
A detailed SaltConf16 event guide is available at http://eventmobi.com/saltconf16/. Registered attendees can download the SaltConf16 event guide app from their favorite app store and log in to build a personalized schedule, receive important event notifications, network with other attendees and provide feedback on sessions and the conference.
SaltConf16 is sponsored by the leading names in enterprise infrastructure and DevOps including IBM Cloud SoftLayer, Hewlett Packard Enterprise, SUSE, Virtustream, VMware, Google Cloud Platform, Izeni, Linode, PagerDuty, StackIQ, Sumo Logic, XebiaLabs, Zenoss, Adobe, LANDESK, LinkedIn and Packt Publishing. Attend SaltConf16 and learn how SaltStack works with each of these partners to automate and orchestrate intelligent IT.
SaltConf16 keynotes on Wednesday and Thursday mornings will highlight a multitude of options to use the power of SaltStack to orchestrate and automate modern infrastructure and application environments.
Wednesday keynotes include:

SaltStack - Marc Chenn, CEO, and Matt Meservey, head of product - "The Evolution of SaltStack Enterprise"
IBM Cloud SoftLayer - Simon Kofkin-Hansen, Senior Technical Staff DevOps, CTO Hybrid Cloud, Distinguished Engineer; and Michael Elder, Distinguished Engineer and CTO DevOps Release Automation - "Jailbreak your Data Center"
VMware - Vipul Shah, director of product management - "Infrastructure and Application Management with SaltStack and VMware"
Virtustream - Steven Gonzales, "Automation to Orchestration, Our Journey with SaltStack"
Thursday keynotes include:

SUSE - Joe Werner, senior product manager, and Don Vosburg, technology strategist - "The SUSE Manager 3 Light Show"
Hewlett Packard Enterprise - Paul Durzan, vice president of product management, converged data center infrastructure - "Software-Defined Data Center Management with SaltStack and Hewlett Packard Enterprise"
SaltStack - Thomas Hatch, CTO - "A Ten-Step Guide to Get More Salt in Your Diet"
On Wednesday night at 6:00pm, the next great Salt Sprint, hosted by Adobe, will be held across the hall from the conference party. Most of the SaltStack software engineering team will be in attendance and this Salt Sprint will get busy building new Salt modules and fixing bugs. Food, drink and fabulous prizes will be provided to attendees by SaltStack and Adobe. If you plan to join the SaltConf16 Salt Sprint and have a module in mind to build or a bug to squash, tweet us at #SaltConf16 or send us an email at saltconf at saltstack dot com with your requests and ideas.
At 6:30pm on Wednesday the SaltConf16 conference party will unveil the latest Salty t-shirts (the force is strong with these shirts) and have even more wicked-awesome surprises while taking attendees back to the days of hanging out in your mom's basement playing Zelda and watching Star Wars. Visit sponsors to complete your SaltStack sticker collection.
Thank you to IBM Cloud SoftLayer, Hewlett Packard Enterprise and Adobe for their support of the SaltConf16 conference party and Salt Sprint.
The SaltStack Certified Engineer exam will be available for free at the conference to SaltConf16 attendees who have taken SaltStack training or SaltConf16 Pre-Conference Training.
SaltStack Enterprise 5.0
SaltStack Enterprise 5.0 is coming soon and details about this substantial new release and the upcoming beta launch will be provided at SaltConf16. Conference attendees will receive an exclusive first look and prioritized access to the new release through the following SaltConf16 sessions and activities:

An invite-only SaltStack Enterprise 5.0 beta launch event on Wednesday, April 20 from 5:30 - 6:30pm. Send a note to sales at saltstack dot com for more information.
Two SaltStack executive keynotes with demos and an architectural overview.
"Introduction to SaltStack Enterprise 5.0" breakout session.
Live demos from experts in the SaltStack expo hall booth.
SaltStack provides enterprise IT operations and DevOps organizations a central point of control for intelligent, event-driven orchestration and automation any cloud platform, data center infrastructure or application stack. SaltStack software helps businesses offset the risk of cloud and IT investments through increased infrastructure efficiency and improved software compliance and security.
SaltStack software was designed from the beginning to automate the management of massive infrastructure and extremely complex software environments typical to Web-scale data centers and enterprise IT operations. SaltStack is used to control any public or private cloud infrastructure, providing autonomics that intelligently react to machine or human-generated events to keep mission-critical applications, systems and infrastructures available and secure.
Follow @SaltStack or #SaltConf16 on Twitter.
About SaltStack
SaltStack is a complete systems management software platform for fast and scalable automation of any cloud, application stack or data center infrastructure. Specifically, SaltStack is used by system administrators and developers to intelligently automate configuration management, private cloud building, public cloud orchestration and autonomic infrastructure. SaltStack won the Best of VMworld Gold Award for virtualization management, won an InfoWorld 2014 Technology of the Year Award, won the 2013 GigaOm Structure LaunchPad competition, was named a Linux Journal Reader's Choice product in five categories, was named a Gartner 2013 Cool Vendor in DevOps, and was included on the GitHub Octoverse list for 2012 and 2013 as one of the largest, most-active open source projects in the world. For more information, please visit http://www.saltstack.com.