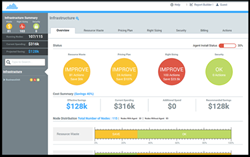 "Cloudamize is clearly in the right place at the right time."
Philadelphia, PA (PRWEB) April 28, 2016
Cloudamize, a leader in cloud infrastructure analytics and cost optimization, today announced that it has raised $1 million in additional funding led by MissionOG with participation from existing investors including DreamIt Ventures. The investment will be used to expand sales and marketing efforts as well as accelerate product development. In addition, the company plans to make a number of strategic hires to continue scaling growth.
With the close of this round of funding, Jonathan Palmer, a seasoned fintech executive and director of Heartland Payment Systems, will join the company's board of directors. Jon's impressive career includes 22 years at Fidelity Bank in Philadelphia, where he rose to the level of Vice Chairman, and 15 years in entrepreneurial pursuits as CEO and investor in young companies such as Lucid Security, Wellspring Resources, Vital Processing Services and FSV Payment Systems. "I am very excited to join the board of Cloudamize," said Palmer. "As someone who has been a part of much of the evolution of the IT industry, for me the promise and potential of the cloud cannot be overstated. Cloud computing has reached the tipping point for mainstream adoption even in security sensitive industries such as financial services where I have dedicated much of my career. Cloudamize is clearly in the right place at the right time."
Cloudamize is the industry's most comprehensive infrastructure analytics platform supporting the entire journey to the cloud. Cloudamize supports all three major public clouds: AWS, Azure and the Google Cloud Platform, and helps customers assess, plan and manage their cloud deployments for maximum value. With Cloudamize, customers have experienced on average a 48% reduction in cost while accelerating migration planning time by 65%. The Cloudamize platform is employed by many of the top system integrators and managed services providers in the industry.
This round of financing comes amid a number of recent moves by the company including the announcement of a partnership with Google and the appointment of software industry veteran Bob Moul as CEO. "I am very pleased to have the strong support of our existing institutional investors in this round as well as the addition of several influential executives including Jon Palmer," said Moul. "The financial backing and deep board experience gives us the ability to fully focus on the immediate opportunities in front of us and lays the groundwork to continue to rapidly scale the company."
About CloudamIze
Proudly located in Philadelphia, Cloudamize is an analytics software company that helps companies get the most out of their investments in cloud computing. Our SaaS-based analytics platform helps our customers and partners make confident, data-driven decisions at each stage of the cloud journey – from assessing options, to planning migrations, to managing cloud deployments for maximum value. With Cloudamize, companies have experienced significant monthly savings on their cloud deployments, while simultaneously increasing performance. To maximize the value of your cloud, please visit: http://www.cloudamize.com