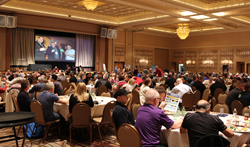 This year's MSA Convention was so beautifully and professionally organized
St. Louis, MO (PRWEB) April 22, 2016
Marcone Servicers Association (MSA), an educationally focused professional organization of more than 2000 appliance service industry member-partners, set attendance records at their recent 2016 MSA Convention in Las Vegas. The annual convention brought together over 600 of the most competitive technicians, specialty trainers, small business owners and major appliance manufacturers from across North America.
"As always, the ultimate goal of the convention is to enhance the success and profitability of a servicer's business, however, this 2016 MSA Convention should officially be remembered as 'The Art of Service and Celebration,' says Rick Vogel, vice president at Marcone. "If you were looking to achieve all of the above and have one heck of a time doing it, this was the place to be."
One-on-one networking was cited among many in attendance as the most valuable aspect of the event. At the event, business owners had access to Marcone sales reps; technicians had opportunities to speak one-on-one with master trainers; and appliance manufacturers got personalized feedback from their customers.
"This year's MSA Convention was so beautifully and professionally organized," says Karen Lindquist, national account manager at GE Appliances. "I think it shows how much Marcone really cares for its customers."
According to Vogel, the appliance service industry has been characterized for too long as a straightforward, blue-collar industry. That misperception is what inspired the long-running theme of "The Art of Service" for the convention, a concept that focuses attention on the nuanced and talent-driven nature of the appliance service industry.
"As in the past, those attending received a plethora of business and technical training classes designed to aid in their future success," says Vogel. "The independent service companies also took full advantage of the opportunity to interact and strategize with both their peers and leaders from major manufacturers in our industry."
To address the need for increased talent, the MSA Convention was centered on an intensive education program. While courses are offered all year through MSA resources, this event made the education more hands-on and personal. Classes included everything from best practices for repair techniques to business operations and marketing. Access to specialized training is a big draw for convention attendees.
"We are in a fantastic industry and the typical independent service company epitomizes the entrepreneurial spirit that makes this country so great," says Vogel. "If you occasionally lose that spirit and need a 'pick me up' to remember what a great industry we are in, attend the next MSA Convention."
About Marcone
Marcone Servicers Association was founded in 1998 to serve the appliance repair industry. The organization is backed by Marcone Supply, the country's largest appliance parts distributor. Marcone was founded in 1932 in St. Louis, where it is still headquartered.