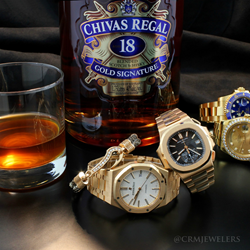 When Chivas Regal decided to collaborate with CRM Jewelers...the morals and brand values shared by CRM and Chivas Regal matched perfectly - Alex Thaler, Chivas Regal Brand Ambassador
Miami, Florida (PRWEB) April 21, 2016
CRM Jewelers, a social media driven luxury watch and jewelry store in Downtown Miami, celebrated the grand opening of their new location on April 13th 2016 during a night of cocktails, music and high end timepieces.
Scotches and Watches, the name given to the RSVP event, focused on introducing a new experience pairing high end watches with Chivas Regal's luxury Scotch Whiskeys to international customers and local guests. Whiskey connoisseur Alex Thaler, the Brand Ambassador for Chivas Regal (the event sponsor), impressed clients all night with specialty cocktails that never stopped pouring and interesting information about the making of a great Scotch.
"When Chivas Regal decided to collaborate with CRM Jewelers, a recognition of hard work, customer service, superior product, and brand morals came into play. I believe that the morals and brand values shared by CRM and Chivas Regal matched perfectly," said Thaler about the event.
Complimentary cigars from XM Cigar Co's signature line, personally delivered by President Xavier Marrufo, added to the overall high-end lifestyle experience of the VIP celebration.
When asked why he participated in the grand opening, Marrufo said, "Our company motto is 'Always Aim High.' That's what we live by. This is also why a family owned company like CRM has risen to the top in such a short period of time. We wanted to be a part of that and plan to collaborate on more lifestyle events with them in the future."
While guests sampled the Scotches and signature cocktails throughout the night, they had the opportunity to receive a horological tour from both CRM Jewelers' President Carlos Marcelin and Eric Rivera, the idiosyncratic host of Watch Your Style, the company's unique YouTube channel about watches and luxury.
Rivera did not miss the opportunity to flirt with controversy, quickly making reference to the watch on his wrist; a watch that caused quite a stir on his Rolex Day-Date 40 video on YouTube. When interviewer Kaiser Llerena inquired what the YouTube star was wearing, he said, "It's funny that you say that, because today I have a Day-Date 40, a watch that's caused a lot of controversy for me. And actually I decided to give it a shot today and see how I feel!"
Carlos Marcelin also sported a Rolex watch during the event: a 41-mm diamond-set Rolex President. However, when when asked what his favorite luxury watch was, he said, "It has to be the rose gold Patek Philippe Nautilus 5980. I just love the subtle, but elegant look of the Patek Philippe brand." The 5980, along with other Patek Philippe watches, were showcased at the event.
The CRM Jewelers Story
During a discussion with one of the guests, Carlos Marcelin also added [with a chuckle] that Scotches and Watches was actually CRM Jeweler's third grand opening. He stated, "This is actually the 3rd store that we have moved into during our first 3 years of operation. We just didn't have time to celebrate the first two!"
Carlos went on to explain how the firm evolved since its humble beginnings. The company's first modest 400-foot location in 2013 was located in a jewelry mall adjacent to the Seybold Building, the more traditional jewelry mecca in the South Florida area. At that point, CRM Jewelers only had around 5,000 followers on Instagram. Three years later and over 300,000 social media followers strong [across YouTube, Instagram, Facebook, and Google Plus], Carlos breathes a sigh of relief and proudly says, "I'm thankful that we made it!"
But how did a small, family owned firm manage to succeed in an industry where most companies have been around for much longer, some even decades? The CRM motto may be the actual culprit.
When asked about the secret of CRM Jewelers' success, Carlos explains, "There are two main reasons. The first is that our motto has always been, 'Make your next watch purchase an investment.' What that means is that we have always focused on educating our customers to make them smarter shoppers and on giving them the best deal possible, unlike many well known, retail stores out there. The second reason is that we have always given our clients the best service possible."
Carlos mentioned that the company's focus on education and great service were the reasons CRM has obtained so many 5-star reviews from customers across the Internet.
The Future of CRM
As Scotches and Watches came to a close and guests gathered outside to enjoy some good XM cigars, it was logical to inquire about CRM Jewelers' future plans.
When asked what was next for CRM Jewelers, Carlos discussed the establishment of the company's VIP Club to bring clients an even greater level of savings, the design of mobile applications to make high end jewelry and watches a lot more interactive in an increasing digital age, and more collaborated events with other lifestyle-based firms to increase brand awareness. "As you can see, we're going to be quite busy," he concluded, then raised the cigar back to his lips to continue enjoying his special moment!
For Media Inquiries or to collaborate with CRM Jewelers on lifestyle events contact VIP (at) crmjewelers (dot) com.
About CRM Jewelers: CRM Jewelers is a 5-Star Rated family owned and operated high end watch and jewelry store in the heart of Downtown Miami. CRM's clients and fans span over 150 countries thanks to the company's exponential growth in social networks like Instagram, YouTube, Facebook and Google+. CRM Jewelers was founded by watch connoisseur and investor Carlos Marcelin. Carlos' childhood experience working in his dad's artisan and vintage watch shop in Havana, Cuba inspired him to start the company.
About Chivas Brothers: With headquarters in Hammersmith, London and Paisley, Scotland, Chivas Brothers is the Scotch whisky and premium gin business of Pernod Ricard, the world's co-leader in wines and spirits. Chivas is the global leader in luxury Scotch whisky with 85% market share of Scotch whisky aged 21 years old and over. The firm traces its roots to the opening of a grocery store at 13 King Street, Aberdeen in 1801, that sold luxury foodstuffs and Caribbean rums to a wealthy clientele.
About XM Cigar Co: XM Cigar Co. & Distribution specializes in implementing 5-star Cigar Programs in hotels, casinos, golf courses, resorts, etc. XM carries only top rated brands rated by Cigar Aficionado and Cigar Enthusiast. XM Cigar Co. has been recognized by AAA Five Diamond Awards, Forbes Travel, and Trip Advisor for amenities offered in hotels and resorts.