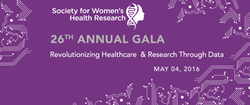 Join us as we discuss how the healthcare community can move beyond conversation to an era of personalized care.
(PRWEB) April 21, 2016
The Society for Women's Health Research's (SWHR®) annual gala dinner is just two weeks away. SWHR will host its 26th signature event, "Revolutionizing Healthcare & Research Through Data," on Wednesday, May 4, 2016 at The Ritz-Carlton Hotel in Washington, D.C.
SWHR's gala will host more than 500 attendees, including key members of Congress; researchers and clinicians; advocacy groups and disease awareness organizations; professional, scientific and medical associations; and individuals interested in the advancement of women¹s health.
Additionally, a host of experts from across the industry will discuss the impact of data collection on the future of health, science, and medicine. The evening will feature keynote speakers Alyson J. McGregor, MD, Associate Professor of Emergency Medicine at Brown University and David C. Page, MD, Director of Whitehead Institute, Professor of Biology at Massachusetts Institute of Technology, and Investigator at Howard Hughes Medical Institute, who will discuss how data is reshaping healthcare and how the industry can move from conversation to personalized care.
The event also will feature a panel of experts from across the industry to talk current and future uses for data collection in healthcare:

Kavita Patel, MD, Nonresident Senior Fellow at the Brookings Institution (moderator)
Robert M. Califf, MD, Commissioner at the FDA
Jennie Larkin, PhD., Senior Advisor for Extramural Programs and Strategic Planning at the NIH
Anna McCollister-Slipp, Co-founder of Galileo Analytics
Jane L. Snowdon, PhD, Director, Watson Health Partnerships, IBM
All event proceeds will benefit SWHR's science, advocacy and educational programs, which ensure that women's health remains a national priority.
Media are invited to attend the gala. To request a complimentary seat, email your name and news organization to communications(at)swhr(dot)org.
###
About SWHR
The Society for Women's Health Research (SWHR®), is a national non-profit based in Washington D.C. that is widely recognized as the thought-leader in promoting research on biological differences in disease and is dedicated to transforming women's health through science, advocacy, and education. Founded in 1990 by a group of physicians, medical researchers and health advocates, SWHR aims to bring attention to the variety of diseases and conditions that disproportionately or predominately affect women.
For more information, visit http://www.SWHR.org. Follow us on Twitter at https://twitter.com/SWHR.