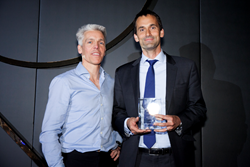 (PRWEB) April 21, 2016
Imagine proudly accepted the "Innovation in Risk Management" award at this year's FinTech awards ceremony held in London on April 13, 2016. Sponsored by Bobsguide, internationally regarded as the essential information resource for the financial community, the FinTech Innovation Awards recognized achievements across the global financial technology industry.
"Innovation has been Imagine's guiding star for 23 years, and we are deeply honored by Bobsguide's tribute," said Scott Sherman, Imagine's Co-Founder and Global Head of Business Development and Sales.
Imagine's latest innovation is a margin system offering financial practitioners the ability to independently replicate margin requirements, by exchange or broker, for reconciliation, margin/collateral management, and optimal capital deployment.
# # #
About Imagine Software
Imagine Software, founded in 1993, provides real-time portfolio, risk management, and regulatory solutions for banks, brokerage firms, hedge funds, funds of funds, and asset managers in more than twenty-five countries throughout the Americas, Europe, and Asia-Pacific regions. Imagine provides institutional-grade functionality and broad cross-asset instrument support for businesses of all sizes and complexity. Imagine was the first to launch a cloud-based portfolio and risk management system in 2000, making it easier for clients to access, customize, and use the firm's extensive analytics and products.
Headquartered in New York City, Imagine has offices in Hong Kong, London, and Sydney. For more information, visit http://www.imaginesoftware.com or contact Imagine Software at 212-317-7600, and follow on Twitter and LinkedIn.