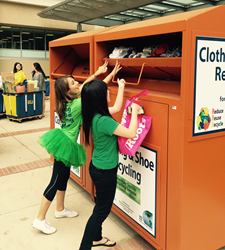 We are proud to support a program that helps students develop a habit of giving back that will follow them even after graduation.
NATIONWIDE (PRWEB) April 20, 2016
As Spring Sessions draw to a close at colleges and universities nationwide, students are gearing up for finals and embarking on migrations from campus housing as they leave for the summer.
For the fourth year, American Textile Recycling Service (ATRS) is gearing up to help students make this mass exodus a cleaner, greener experience by providing easy, convenient onsite donation bins for unwanted clothing, shoes and dorm room textiles. A total of 13 schools will be participating in the Move2Recycle Campaign this year. Several campuses, including University of California Los Angeles, Tennessee State University and University of Arizona, are also expanding the program to serve even more undergraduate, graduate and off campus residents.
According to Secondary Materials And Recycled Textiles (SMART) Association, the average U.S. citizen discards approximately 70 pounds of textile items each year. That translates to 280 pounds of clothing, shoes or bedding being kicked to the curb over the course of the average student's undergraduate career. By partnering with residence life, sustainability and off campus living departments, ATRS aims to keep these items out of local landfills and ensure they are used again by someone in need.
"Students are naturally passionate advocates for our environment and they care about philanthropic causes," says David M. Peganyee Sr., ATRS CEO. "Simply by dropping unwanted dorm room textiles into campus donation bins, they are reducing their carbon footprint and contributing to those in need. We are proud to support a program that helps students develop a habit of giving back that will follow them even after graduation."
In addition to donating gently used clothing, shoes and dorm room bedding on campus or in their apartment complex, ATRS encourages students to share their story on social media to inspire others. By posting photos of donated garments on Facebook or Instagram, they can chronicle the special memories or sentimental experiences tied to each piece before passing them along.
The Move2Recycle Campaign takes place between April and July, but students and community members in these cities can also donate all year round. Simply call the 24-Hr Hotline at 866-900-9308 or visit http://www.atrscorp.com to find a permanent bin near you. Many ATRS Clothing & Shoe Donation Bins also directly benefit a local nonprofit organization, which is prominently featured on the bin sign.
About American Textile Recycling Service
American Textile Recycling Service (ATRS) is the nation's fastest growing textile recycler. Its socially responsible business model provides free textile recycling solutions for the public, job stimulation worldwide and much-needed funding for worthy local charities. Easy, convenient ATRS Donation Bins are available throughout Texas, Arizona, Atlanta, Colorado, Florida, Indiana, Michigan, Oklahoma, Southern California and Tennessee. ATRS is committed to keeping textile waste from local landfills and promoting a greener tomorrow. For press inquires contact pr(at)atrsonline(dot)com.