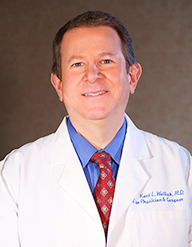 LAS VEGAS, NV (PRWEB) April 21, 2016
The Wellish Vision Institute, with Principal Investigator, Kent L. Wellish, M.D. is excited to announce the FDA approval of a new device for the treatment of keratoconus using Corneal Collagen Cross-Linking, which can slow or even stop the progression of keratoconus. Avedro, Inc., an ophthalmic pharmaceutical and medical device company, has recently received approval from the U.S. Food and Drug Administration (FDA) for Photrexa Viscous, Photrexa and the KXL Collagen Cross-Linking System.
Dr. Kent Wellish, medical director of the Wellish Vision Institute, is proud to have been part of a nationwide team involved in the Avedro study, which resulted in the FDA approval of this new device and treatment. Dr. Wellish has been performing Collagen Cross-Linking, since 2013, as part of the ACOS Study, and is the first to bring this treatment to Las Vegas. He is excited to now be able to offer this technology to more Las Vegas area patients.
About Keratoconus and Corneal Collagen Cross-Linking
Keratoconus is an eye disease that causes the normally round cornea to become thin and bulge into a cone-like shape. In its advanced stages; this disease can severely affect vision and make simple everyday tasks such as driving a car, reading a book or watching television difficult or impossible. Many patients are commonly diagnosed with mild astigmatism at the onset of puberty, and are later diagnosed with keratoconus in their teens or early 20's. Since keratoconus can be progressive (gets worse with time) it's important to have an early diagnosis so eye doctors have the opportunity to properly treat the disease.
In the past, many patients with keratoconus had to undergo a cornea transplant if the disease continued to progress. However, with advancements in treatment options such as Collagen Cross-Linking (CXL), modern medicine may be able to slow or stop the progression of the keratoconus. CXL uses ultraviolet light, combined with riboflavin to cause a change in the collagen fibers at the molecular level. This increases collagen bonds, or cross-links, that can make the cornea stronger. Strengthening the cornea slows, and for many patients stops, progressive keratoconus and corneal ectasia.
Collagen Cross-Linking Benefits

Slows or Halts Progressive Keratoconus
Requires A Single One-Hour Treatment
Zero Injections
Zero Stitches
Zero Incisions
Fast Recovery
To learn more about Corneal Collagen Cross-Linking; please call Wellish Vision Institute at 702-733-2020 to make an appointment.
About Wellish Vision Institute
Since 1994, Wellish Vision Institute has been at the forefront of ophthalmology. Our commitment to patient care has led us to create a practice where our patients receive top-notch, individualized treatment. We have assembled a diverse staff of highly trained and experienced professionals in all areas of eye care, and we are confident that no matter what your needs are, we can help. It's founder, Dr. Kent Wellish is the #1 choice for LASIK in Las Vegas, more than any other LASIK practice in Las Vegas. He is Nevada's First Laser Vision Surgeon, since 1994. He has a flawless track record with the FDA and is one of the few Keratoconus specialists in the country to be named a Castle Connelly Top Doc, chosen by his peers.
East Location
2110 East Flamingo Road, Suite 210 & 211
Las Vegas, NV 89119
West Location
2555 Box Canyon Dr.
Las Vegas, NV 89128
For more information please call our patient information line at 702-733-2020.
CONTACT: KCN.Wellish(at)gmail(dot)com