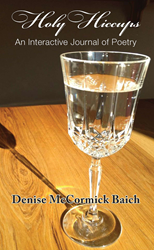 Let her take you on a journey that will touch every fiber of your emotions and thought-life. You will weep, smile, laugh and identify as if her writings were written just for you.
St. Louis, MO (PRWEB) April 28, 2016
Denise McCormick Baich had written poetry dating back to her childhood, but after several years without writing even a stanza, in 2009 the poetry arrived again much like a tsunami and took on a more spiritual tone. The desire to put the words on paper was very strong and people closest to her encouraged her to do more with it than just file it away. Friends would ask her how she wrote such wonderful poetry and her answer would be, "It's like hiccups… when they arrive, there isn't much else I can do until it is on paper. It's a hiccup, a holy hiccup."
Initially, Denise only shared her poetry with her husband and church pastoral staff. The content often would surprise even her, and she wanted to make sure that before she shared it with others that the meaning was accurate to the original intent of the poems. Often the phrases and terms were new and unfamiliar to even Denise and, upon completion, even she would tear up after reading.
Denise submitted a few pieces of her poetry into competitions and soon after two poems published within Holy Hiccups, "Masterpiece" and "Marinate" were recognized and received awards, Denise was then asked by her church and other organizations to read poetry and to assist in providing poetry for an Easter Devotional that was published by her church. Denise also began reading at events and authoring poems upon request.
At that time, friends suggested that Denise should select some of her poetry and publish it in a book. The title of that book came easily. It had to be named Holy Hiccups, and she wanted it to inspire others so it had to provide a place for the readers to record their thoughts as well, and this became the interactive portion of Holy Hiccups. Initially, Denise couldn't fathom others enjoying her poetry, but she soon started receiving feedback on how her poetry was being read by others and how a few people loaned out their copies and then they were finding it difficult to get it back! Suddenly, she realized there was something special in her writing that needed to be shared with others.
Here are a few recommendations:
"Denise McCormick Baich is a gifted writer. Her book Holy Hiccups is a masterfully written project. Let her take you on a journey that will touch every fiber of your emotions and thought-life. You will weep, smile, laugh and identify as if her writings were written just for you. #truegift."
Pastor Gary Pleasant, New Life Christian Church, Author
"It usually takes several books for an author to become known so that you would purchase his or her books before even looking inside just because you know it will be good. Well, with Denise McCormick Baich it is a different story; you won't have to wait for several books. Once you read Holy Hiccups you will know that whatever she writes is something you will want to read.
"Ms. McCormick has a special gift. All during the day, she stops periodically to write a poem about something that has just happened. This means that she writes about real life—about the things that you and I also experience. It may be about something like eating a Kumquat, or getting a daughter's backpack ready in the morning, trying to remember something that you have forgotten, coping with a raging storm, attending Church on Sunday morning, about graying hair, or crying, or hope, about a good life, and on and on the list goes.
"Each poem is short and to the point—something that makes you stop and think about your own life. This book is something you do not want to miss."
William B. Bradshaw, PhD
Retired College President
Ordained Minister, Author
A Book Signing will take place on Monday, June 27 from 6 pm to close at:
Milk & Honey
101 Plaza Drive
Wildwood, MO 63040.
Books will be available for purchase and Denise will be there with a pen in hand.
To purchase the paperback version, click here: http://www.mirabooksmart.com/Holy-Hiccups-An-Interactive-Journal-of-Poetry_p_653.html
Denise has resided in Wildwood, Missouri since 1995. Her background is in finance and the beauty industry and she currently owns and operates The Pedicure Plus as a Certified ANT/MNT CCPMA, Mentor, Educator, and Trainer. Denise and her husband Kevin have three beautiful daughters and enjoy traveling, antiquing, and being involved in the community.
You can find Denise on the web at:
https://www.facebook.com/Holy-Hiccups-by-Denise-McC-B-150847481703191/