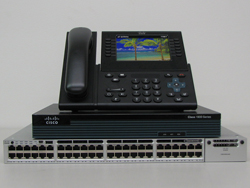 Rochester, NY (PRWEB) April 21, 2016
P3 Systems, a reseller of refurbished and new surplus network hardware, telecom, telephony, server and storage equipment offers global Asset Recovery Services to a range of industries. This includes end users, service providers and leasing companies. P3 offers fair market value purchase pricing to their customers in need of such services. The Rochester, NY- based firm specializes in product from Cisco, along with Adtran, Avaya, Brocade, Dell, EMC, HP, IBM, Juniper, Polycom and several others. In conjunction with its new online sales platform, the company redeveloped its internal system to improve their Asset Recovery Service in general. This has allowed for the needs of existing customers to be more efficiently met. Equally as important, P3 has seen an influx of new customers utilizing this service. The new system uses a matrix comprised of geographic, demographic and technological-trend data points to improve their ability to reach new audiences.
Project Scale
P3's Asset Recovery Service accommodates organizations that range from small single offices to multi- campus enterprise environments. P3 Systems services client needs that range from single item decommission to multi-location full scale refreshes. Most commonly, this equipment includes routers, switches, wireless access points, wireless controllers and firewall appliances. P3 offers immediate purchase as well as long-term asset remarketing solutions.
Logistics Assistance
P3 has developed a seamless logistics solution for customers using their Asset Recovery Services. At a basic level, P3 offers their customers essential materials including double-walled boxes, anti-static bubble wrap and shipping labels. Utilizing these proper materials ensures that the equipment arrives at P3 in the condition that it left the customer's facility in. P3 offers personnel deployment for larger scale takeout opportunities to assist with equipment valuation and packaging services. All transportation costs are complimentary of P3 Systems. This includes small pack shipments in addition to palletized freight.
Consignment
P3 Systems also offers a consignment option within the Asset Recovery Service. In certain circumstances, consignment rather than outright purchase makes more sense for the client in order to maximize return on investment. Typically this option is better utilized for more obscure and higher value equipment.
Regional Focus
As a result of the redeveloped internal system, P3 has experienced an increase in Asset Recovery customers in major U.S. cities over the past 12 months. New York City, Philadelphia, Washington D.C, Chicago, Miami, Dallas, Houston, Las Vegas, Los Angeles and San Francisco are the top ten major cities where P3 has seen an increase in activity within the Asset Recovery Service. While P3 has a regional focus, the asset recovery service is available to international customers. P3 has serviced customers in Canada, Central and South America, Europe, Africa, Asia and Oceania.
About P3 Systems
P3 Systems was founded in 2007 by CEO Frank Pecora, and is privately held. P3 Systems has been recognized by the Rochester (N.Y.) Business Alliance as one of the "Rochester Top 100" fastest growing companies in the region, for the past 4 years in a row. For a full list of products and services offered, visit P3 Systems online at http://www.p3online.com
Asset Recovery Service requests: purchasing(at)p3online(dot)com