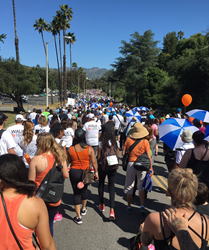 Woodland Hills, CA (PRWEB) April 21, 2016
On Sunday, April 17, 2016, the team at Southwest Legal Group participated in the Walk MS at Pasadena Rose Bowl. Together with many others, we were able to fundraise for research to help find a cure for this serious and debilitating condition.
Attorney Gelly Valero of SWLG has a deep connection with the cause as his sister, Imelda Noss, has multiple sclerosis. He made the following statement after the walk,
"I have a personal connection with this debilitating disease. My sister, Imelda Noss, has been battling MS for 11 years. When I participate in these walks it's not just to help my sister, but to help all those who have been stricken with this disease.
This can't be done alone, nor can one person find a cure. It takes a team, it takes communities, it takes awareness, and most importantly, it takes money for research. I walk not just for my sister, but for everyone who is affected by MS. Together, I know that we will find a cure and get rid of this disease once and for all. I am honored and proud to be a part of the walk for a cure!"
Southwest Legal Group is a personal injury firm with offices in California, Oregon, New Mexico, Nevada, Texas, Washington, and Utah. Whether through community outreach or legal assistance, the team is dedicated to protecting individuals with serious and debilitating injuries or physical and mental conditions. To learn more about the firm, call (855) 232-5470 or visit their website at http://www.swlegalgrp.com/.