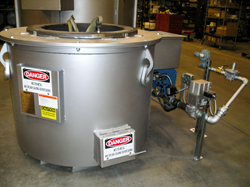 The sizes of these two furnaces provided the customer with the flexibility to effectively run both small and large batch melting. This flexibility allows the customer to efficiently run their production process
Riverside, MI (PRWEB) April 22, 2016
Lindberg/MPH announced the shipment of two gas fired, cast iron pot furnaces to a leader in the automotive design and manufacturing industry. The two pot furnaces will be used for melting and holding Kirksite, an alloy of Aluminum and Zinc. Cast iron pots were also supplied as accessories to the pot furnaces. These rugged cast iron pots are designed for years of operation.
One of the industrial furnaces has a melting rate of 660 lbs per hour and a holding capacity of 2,000 lbs. The other pot furnace has a melting rate of 10,000 lbs per hour and a holding capacity of 30,000 lbs. The supply of the two pot furnaces with vastly different sizes allows the customer the flexibility of small or large batch melting. Both furnaces are castable lined and include flue and slag port doors. They are delivered complete with a package burner and NFPA compliant gas train.
Unique features of these gas fired cast iron pot furnaces include:

Steel plate shell and castable lining
Rear flue and slag port frame and door
Cast iron pots
Natural gas fired packaged burner
Spark ignited pilot light
Electronic flame supervision
Motorized gas valve
NFPA compliant
Totally enclosed integral combustion air blower
About Lindberg/MPH:
In addition to melting and holding furnaces for non-ferrous alloys, Lindberg/MPH is a leading manufacturer of standard and custom industrial heat treat furnaces, including pit, box, IQ, and belt type for the ferrous and non-ferrous markets. Lindberg/MPH customers cover a wide range of industries including aerospace/military, automotive, commercial heat treating, energy/oil, electronics and the forging markets. Founded in 1917, the company has more than 75,000 industrial furnace installations worldwide and their equipment is backed by a full range of customer support services and the most extensive replacement parts inventory in the industry. Lindberg/MPH is a proven leader in the thermal processing industry, with a long track record of proven policies and management practices.
Lindberg/MPH is owned by Thermal Product Solutions ("TPS"), a leading American manufacturer of custom industrial ovens used for heat treating, finishing, drying, curing, manufacturing automation and process control. TPS is a global leader in thermal processing products and test solutions with brands including Baker Furnace, Blue M, Gruenberg, Tenney, Lindberg, Lunaire, MPH, and Wisconsin Oven. For more information on equipment solutions from TPS visit the website at http://www.thermalproductsolutions.com.