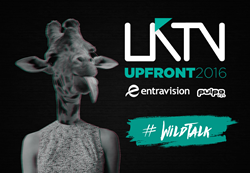 "We couldn't be more excited to share with our partners LATV's whole new programming slate, featuring ambitious original content that will be produced in the U.S., made for the Bi-cultural American Latino audience."
Los Angeles, CA (PRWEB) April 25, 2016
The event will represent a year of extraordinary growth at LATV in terms of new programming, new partnerships, and new platforms. LATV will showcase to clients and agencies a glimpse of its upcoming original content, and the extraordinary marketing potential of its ever-vibrant, ever-expanding bi-cultural audience.
"We couldn't be more excited to share with our partners LATV's whole new programming slate, featuring ambitious original content that will be produced in the U.S., made for the Bi-cultural American Latino audience," says Luca Bentivoglio COO and Head of programming. "This year's Upfront is shaping up to be an amazing night!"
About LATV:
LATV is the only remaining Latino-owned TV network in the Hispanic television space. Its programming primarily targets U.S.-born Latinos and the coveted bi-cultural 18-49 Latino demographic, with content that features a combination of originally produced shows as well as licensed content that has never before been seen in the U.S.
LATV's fully-owned subsidiary, American Latino Syndication, produces and distributes "American Latino" and "LatiNation," two award-winning, Latino-themed TV programs that are broadcast on general market stations in over 100 cities nationwide. For more information, please go to http://www.LATV.com and http://www.AmericanLatino.tv.