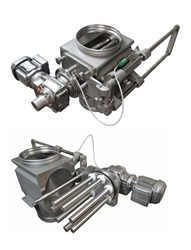 Chanhassen, Minnesota (PRWEB) April 21, 2016
Powder Process-Solutions (PPS), system and component solutions provider for sanitary powder processing, is pleased to announce the USDA Dairy Acceptance of their sanitary Rotary Magnet design.
To continue their commitment towards designing and manufacturing components to the highest grade of sanitary standards and to answer to their customers' needs and requests, Powder Process-Solutions undertook the project of designing this new rotary magnet. After a two-year investment into research, development, testing, and USDA review, the design has been accepted by the USDA AMS Dairy Grading Branch and brought to market as a solution for customers needing a sanitary rotary magnet for their process.
Rotary Magnets are uniquely designed to remove ferrous and weakly charged magnetic particles from product flows that tend to plug and bridge in stationary magnetic grates. The rotary action prevents the product from bridging the process stream while breaking apart soft lumps and cohesive materials. The rotary action also provides a superior product to magnet contact ratio versus conventional grate magnets. Ledge-free designs make it so there is absolutely no area inside the housing for product to accumulate. Fully polished interior finish is free of pits and scratches with large radii on all internal corners to facilitate easy cleaning.
"Being part of the USDA Dairy review was a very educational experience," said Dan Donatucci, Component Project Manager for Powder Process-Solutions. "Manufacturers may claim to build equipment to the standards, but until you have experienced a physical review by a USDA inspector first hand, you just don't appreciate the extraordinarily high level of detail and attention used to critique the design and fabrication quality of the equipment. This is a process every quality inspector of dairy processing equipment should experience."
PPS Rotary Magnet's differ from other rotary magnet designs in many ways. The slide rail support system features a guide rod and lock to hold the rotor into two different cleaning positions. This prevents unintentional contact of the magnet rods and housing to avoid damage. The inlet opening forces product onto the strongest section of the magnets, guiding the material to get optimum magnetic separation. Additionally, the precision machined step on the door means no leaks and no gaskets to replace.
Sizes available are the models RM-08 and RM-10, with connection sizes ranging from 6" to 12". Inlets and outlets are available flanged, with BFM® fitting spigots, ferrules, or stub.
Powder Process-Solutions is available to provide quotes and supply more information about Rotary Magnets and how their technology is changing the magnetic separation industry. They can be reached at sales(at)powder-solutions.com or 877-933-2556.