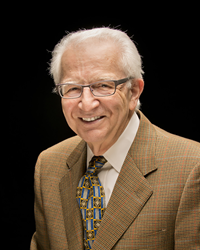 I will strive to live up to the ideals he would have hoped would exist in the individual first appointed to the chair that bears his name.
CHICAGO, IL (PRWEB) April 21, 2016
Dr. Foad Nahai was recently named the first Maurice J. Jurkiewicz Chair in Plastic Surgery for the Emory University School of Medicine, Department of Surgery.
He currently serves as president of the American Association for Accreditation of Ambulatory Surgery Facilities (AAAASF).
Endowed professorships and chairs at Emory give donors an ongoing mechanism for supporting faculty whose career paths have impacted and will continue to advance patient care, trainee education and medical research. The Maurice Jurkiewicz Fund in Plastic Surgery was established in 1983 by a contribution from the F.M. Kirby Foundation, a family philanthropy dating from the 1930s. Named in honor of Maurice Jurkiewicz, MD, Emory's first chief of plastic surgery from 1971 to 1993, the fund was earmarked for support of plastic surgery resident education until a more specific purpose could be identified. Jurkiewicz also contributed to the fund, as did the late Emory reconstructive surgery pioneer John Bostwick, MD, and the late Jack Culbertson, MD, Emory plastic surgery's initial liaison to the Kirby Foundation.
In the early 2000s, Culbertson and Grant Carlson, MD, current chief of Emory plastic surgery, spearheaded an effort to convert the Jurkiewicz Fund to support an endowed chair. Jurkiewicz had retired, though he remained an emeritus professor and advised Emory medical students, interns and residents until his death in 2011. The establishment of the chair was finalized in 2015 with alumni contributions and a large gift from Jurkiewicz's estate, presided over by his daughter Elizabeth Wilson.
According to Carlson, Nahai was a natural choice as the chair's first holder.
"He is an acknowledged leader in aesthetic plastic surgery who has developed and refined various aesthetic and cosmetic procedures," Carlson said. "He has received numerous national and international awards, served in many organizational capacities and on many editorial boards and has authored a vast bibliography that includes several books, including 2011's Art of Aesthetic Surgery: Principles and Techniques, 2nd Edition."
Nahai also had an extensive history with Jurkiewicz himself. As an Emory plastic surgery resident and research fellow, he often trained with Jurkiewicz. When Nahai joined Emory's plastic surgery faculty in 1978, the two surgeons continued working together and co-wrote numerous journal articles.
In 1997, Nahai left Emory to join Paces Plastic Surgery, the aesthetic and reconstructive surgery private practice of fellow Emory alumnus T. Roderick Hester, MD, who also served as Emory plastic surgery chief from 2001 to 2010. Paces had long provided training rotations for Emory's plastic surgery residency. When the practice officially joined the Emory Clinic in March 2013 as the Emory Aesthetic Center at Paces, Nahai was reappointed to the Emory faculty.
"It is an honor and privilege to serve as the first Maurice J. Jurkiewicz Chair," Nahai said. "Dr. J, as we affectionately called him, was a mentor and role model to a generation of Emory trained plastic surgeons, including myself. I will strive to live up to the ideals he would have hoped would exist in the individual first appointed to the chair that bears his name."
About the AAAASF
The American Association for Accreditation of Ambulatory Surgery Facilities, Inc. (AAAASF) was established in 1980 to standardize and improve the quality of medical and surgical care in outpatient facilities and assure the public that patient safety is top priority in an accredited facility. More than 2,400 outpatient facilities are accredited by AAAASF, one of the largest not-for-profit accrediting organizations in the United States. Surgeons, legislators, state and national health agencies and patients acknowledge that AAAASF sets the "gold standard" for quality patient care.
AAAASF programs include surgical, procedural, oral maxillofacial, international surgical and dental. AAAASF is also approved by the Centers for Medicare and Medicaid Services (CMS) to accredit ambulatory surgery centers, rehabilitation and outpatient physical therapy agencies, as well as rural health clinics. For more information, visit http://www.aaaasf.org or Facebook, LinkedIn and Twitter.