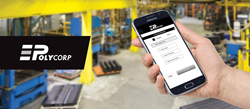 Elora, Ontario (PRWEB) April 28, 2016
Polycorp, an innovative supplier of protective linings serving the transportation, chemical and mining industries, announced the launch a new mobile application. The new mobile app is available on iTunes and Google Play and allows users to select the right Polycorp Rubber Lining for their specific chemical application. The app also provides two tools that can quickly calculate the number of rolls of Rubber Linings and pails of adhesive required for a project.
When storing or transporting harsh, corrosive chemicals, protective linings are required. Polycorp offers a wide range of rubber linings to protect steel, concrete, pipes and equipment in corrosive or abrasive environments. With thousands of different chemical variations, concentrations, and temperature requirements, it is challenging to specify the exact protective lining needed for a specific chemical or application.
The new Polycorp mobile app assists installers in specifying the correct lining and calculating the quantity of lining rolls and required adhesive. Once the app identifies the correct protective lining, the user can quickly get a quote or request full specifications.
The mobile app is available for iPhone, iPad and Android mobile devices through the iTunes App Store and Google Play.
About Polycorp, Ltd.
Polycorp Ltd is a privately-owned Canadian company that specializes in the design and manufacture of engineered elastomeric parts that provide our customers with cost-effective solutions to their corrosion, abrasion, impact, noise, and vibration problems.
Polycorp has built global recognition and a reputation as a market leader in three distinct areas:

Mining: Grinding Mill Liners
Industrial: Protective Linings
Transportation: Track Encapsulation Systems
Polycorp Ltd. has been named one of Canada's Best Managed Companies annually since 2011 and requalified as a Gold Standard winner in 2015.