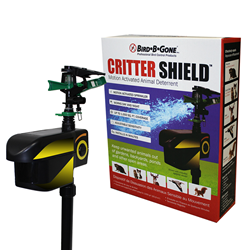 This year we will be introducing several new products for the Home & Garden industry that will help to increase sales in this category.
Irvine, CA (PRWEB) April 21, 2016
Showcasing its full lineup of bird control products for commercial, industrial and residential applications, Bird B Gone will return to the annual National Hardware Show, May 4 through 6 in Las Vegas.
This year, Bird B Gone will include information on partnering with the company for increased profits and details on ensuring quick product sell through. Bird B Gone provides professional quality bird control solutions at affordable prices.
Bird B Gone products include everything from its popular bird spikes (in stainless steel or plastic) to electric shock tracks, and solar powered sonic devices that broadcast distress and predator calls. Visitors will also see such passive deterrents as balloon deterrents and hawk decoys. Property owners who want to protect their lawns from geese and other large birds have a number of chemical repellents to choose from. And growers who want to protect their crops can ask Bird B Gone reps about the different types of netting the company offers.
Rounding out its display will be Bird B Gone's Solar Yard Shield™, one of the most versatile and effective bird and animal repellents on the market. Unlike other pest repellents that only offer one repellent mode, Solar Yard Shield™ offers three pest repellent modes to ensure property is protected from birds, rats, dogs, cats, fox, snakes, and more.
All Bird B Gone products are designed by pest control experts to harmlessly deter birds and critters from a variety of indoor and outdoor venues.
Held every year in Las Vegas, the National Hardware Show (NHS) is the comprehensive housing after-market show. It brings together manufacturers and resellers of all products used to remodel, repair, maintain and decorate the home and garden. The Show features Lawn & Garden World, Homewares and New Product World. The combined events provide a preview of the entire home enhancement marketplace with over 150 product categories.
Bird B Gone is the world's largest manufacturer and distributor of bird control products, providing effective and humane solutions to a bird-free environment. The company provides advice; training and installation services for those who need help with these and other bird control measures. For the complete line of products from Bird B Gone, call 1-800-392-6915; fax: 949-472-3116 or visit our website at http://www.birdbgone.com, e-mail: nobirds(at)birdbgone(dot)com.