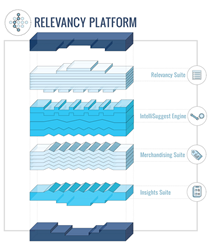 Denver, Colorado (PRWEB) April 25, 2016
SearchSpring today announced the official launch of their new Relevancy Platform™. The team has spent the last two years developing this new platform with the focus on optimizing the customer journey and dynamically delivering products and content for pure-play and omni-channel retailers. The Relevancy Platform™ utilizes predictive intelligence and machine learning technology to deliver the most relevant shopping experience across all devices and platforms, and is generating average increases in conversion of over 20%.
"We spent months researching and understanding the needs of our 500+ customers, along with the shift in customer behavior and expectations of a 1:1 relevant experience. What we ultimately developed was an enterprise level platform that met the growing needs of marketers, merchandisers and ecommerce teams across B2C and B2B retail organizations. " explained Trevor Legwinski, a past Retail Omni-Channel Executive and current CRO of SearchSpring.
SearchSpring's new Relevancy Platform™ is centered around three pillars integral to ecommerce success: relevancy, merchandising and insights.
Relevancy
As the ecommerce industry matures, shoppers are coming to expect more engaging, tailored experiences that highlight products and content they're likely to enjoy. SearchSpring's offerings focus heavily on delivering the most relevant shopping experiences possible to make visits more rewarding for shoppers, and increase conversions and repeat rates for merchants.
SearchSpring's Relevancy Suite of products leverage the machine learning capabilities of their proprietary IntelliSuggest® engine to display relevant products and content across the customer journey. This suite includes solutions for site search, autocomplete, category navigation, product recommendations and more. The result is a fluid front-end customer experience, that is optimized for conversion across all device types, and which can be easily implemented via AJAX or API.
"The new Relevancy Platform™ uses the IntelliSuggest® engine to display relevant products and content to shoppers regardless of where they are on the site. The new machine learning algorithm in the engine goes above and beyond the average ecommerce site search and navigation solutions by intelligently leveraging a larger data set than most solutions. Our customers have seen measurable results across a series of metrics including AOV, conversion, engagement and RPV," said Gareth Dismore, CEO of SearchSpring.
Merchandising
Years of customer feedback and research led SearchSpring to the conclusion that there were two primary use-case scenarios when it came to ecommerce merchandising. While some retailers wanted an intelligent algorithm that allowed for a hands-off approach, others wanted a balance of intelligence and control that would allow them to tailor results based on their business's needs.
"Each of our customers is unique. While many of our customers trust our intelligence to power their results, which frees up internal marketing and ecommerce resources to focus on other areas of the business, others want more control and have specific visual merchandising and specific profit or other metrics they want control over. The Merchandising Suite provides them the freedom to do both. " explained Dismore.
The Merchandising Suite therefore empowers merchants who fall into both categories. It provides merchandising and marketing teams with intuitive tools to visually merchandise products to meet brand guidelines, create landing pages and assign banners to ensure marketing continuity, and also enables merchants to apply custom business rules to meet margin, profit, and other brand specific objectives.
These options give merchants controls that enable them to follow fast fashion trends, and increase their profits by driving high-margin products or house brands to the top of on-site search results, autocomplete, category pages, and more.
Insights
Retailers commonly utilize third-party analytics solutions which track user behavior and identify performance trends. Although powerful, these solutions often overwhelm merchants with mountains of available data. In contrast, SearchSpring's Insights Suite promises to do the heavy lifting for merchants by surfacing the wealth of behavior and performance data that is uncovered by the Relevancy Platform™ to help merchandisers, marketers, buyers and executives make informed business decisions.
Insights goes beyond the basic keyword and traffic reports that are commonplace in other search and navigation solutions. In addition to these basic reports, it showcases return on investment by product, search, navigation, and more. The Insights Suite also provides visibility into product data, allowing merchants to understand how their products are performing, and providing valuable data about the popularity of items based on their color, size, and other attributes. SearchSpring's Insights Suite is action-oriented and provides a button within each report that allows merchants to take immediate action to improve conversion.
"The Insights Suite supports merchants with the data that's necessary to make key business decisions and develop a strategy. Servicing hundreds of clients over the last decade has allowed us to identify the key metrics that are important to merchants. This was an important factor in the design of the new Insights Suite. It surfaces actionable data, and provides an immediate path to the solution. This has resulted in our clients finding opportunities that are generating immediate growth," said Trevor Legwinski, SearchSpring's Chief Revenue Officer.
The new Relevancy Platform™ is currently in use by hundreds of retailers, across fifteen major ecommerce platforms including NetSuite, Magento, Hybris and many others. Explore the platform today at http://www.searchspring.com.
About SearchSpring
SearchSpring is passionate about developing products and services that enhance the experience of online shoppers across the customer journey, and drive quantitative results for merchants. Over 500 B2B and B2C customers across a variety of retail categories trust SearchSpring as partners in their business. They offer knowledgeable support, and unique industry-leading innovations. Their Relevancy Platform™ delivers tangible and meaningful results to merchants, while also providing powerful merchandising tools and actionable insights.