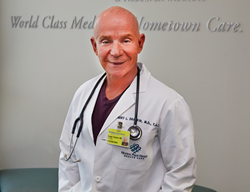 If a patient has a large amount of visceral fat building up, I would consider it vital that the patient make the proper lifestyle changes to remedy the condition.
Clearwater, Fla. (PRWEB) May 02, 2016
Visceral fat, also known as "deep fat" or "skinny fat," wraps itself around major organs, such as the kidneys, liver and pancreas. If not properly addressed, visceral fat can lead to serious health conditions. Robert Drapkin, M.D., a board-certified physician in Internal Medicine, Medical Oncology and Palliative Care, warns against the dangers of visceral fat. "Just because someone isn't overweight doesn't necessarily mean they're healthy," Dr. Drapkin said. "Since visceral fat lives below the surface of the body, those at risk can be lulled into believing they're okay just because the fat isn't immediately visible." The septuagenarian has recently published a book entitled Over 40 & Sexy as Hell!, urging Americans to make lifestyle changes as a part of healthy aging.
Visceral fat is an excess accumulation of gel-like abdominal fat. It's stored deeper than subcutaneous fat. Subcutaneous fat (also known as "pinchable" fat) is stored directly under the skin and is therefore easily identifiable. Visceral fat, however, is far more dangerous, because it wraps around the body's internal organs and is not immediately visible. Because of its insidiousness, visceral fat has earned the moniker "skinny fat." A protruding belly or large waist are symptoms that your body is storing visceral fat.
As people age, the metabolism begins to slow, and visceral fat can build up and lead to health problems for many people. Recent studies show the fat triggers chronic internal inflammation, and can envelope your liver and intestines, while also causing heart disease (4). Visceral fat has been linked to an increased risk of other issues, including cancer, stoke, diabetes, arthritis and obesity. Research has also shown that excess body fat disrupts the normal function of hormones. Visceral fat produces chemicals called cytokines that increase the risk of cardiovascular disease (1). Additionally, a study of approximately 45,000 women conducted at Harvard University and Brigham and Women's Hospital in Boston found that those with waists measuring 35 or more inches had an 80% chance of premature deaths, compared to women with waists measuring 28 or fewer inches. Those women with the largest waists had an increased risk of dying from cardiovascular disease and a 62% greater chance of dying of cancer—even if their weight was normal (2).
Not only can visceral body fat lead to physical health problems, but it can also affect a person's emotional state. A 2014 study conducted by the Boston University School of Medicine found a correlation between depressive systems and the amount of visceral fat in middle-aged adults. The study examined 1,581 women (mean age of 52.2 years) and 1,718 men (mean age of 49.8 years), and found that those who had a higher level of stored visceral fat also had a higher likelihood of experiencing depression (3). "Because it's not immediately visible, visceral fat puts patients at risk without them even knowing there's a problem," Dr. Drapkin said. "If a patient has a large amount of visceral fat building up, I would consider it vital that the patient make the proper lifestyle changes to remedy the condition."
"The biggest problem with fat build-up is that once it's there, it becomes increasingly harder to get rid of, due to less motivation to exercise, more calorie intake, and an unhealthy lifestyle," Dr. Drapkin said. However, improvement is always possible. "Anyone can get better at any age—as long as you patiently maintain a healthy lifestyle with diet, exercise and supplements." In Over 40 & Sexy as Hell!, Dr. Drapkin lays out what constitutes a healthy lifestyle and what exercises individuals should do in order to reduce visceral fat. Dr. Drapkin based his findings on his own first-hand experience as a personal trainer of both men and women, and he has an extensive track record of helping people lose visceral fat through exercise and reversing unhealthy habits.
In addition to authoring the above-mentioned book, Dr. Drapkin practices what he preaches. Inspired by the unhealthy habits he previously had, as well as those of his sick patients, Dr. Drapkin educated himself on the subjects of diet and exercise, and went from living an unhealthy lifestyle to becoming a premier bodybuilder at an age when most people think their health should be declining. Now, at age 71, Dr. Drapkin is an active world-class bodybuilder. Dr. Drapkin has placed in the top five in six of the last seven shows in which he has participated, dating back to 2009. Over 40 & Sexy as Hell! is currently available for Kindle and in paperback on Amazon.com at http://www.amazon.com/Over-40-Sexy-as-Hell-ebook/dp/B01BQN6CBA.
About Robert Drapkin, M.D., F.A.C.P.:
Robert Drapkin, M.D., is board-certified in Internal Medicine, Medical Oncology and Palliative Care. He's been in active practice as a doctor for over 36 years, working to save lives and improve quality of life through the education of his patients. He provides up-to-date knowledge and guides his patients through their illnesses, exercise routines and diets. Dr. Drapkin is currently 70 years old, and started training as a bodybuilder when he was in his fifties. He's been a competitive bodybuilder for 17 years, and has won many titles and contests. He recently trained for a national event in July, 2015. Dr. Drapkin is the author of the book Over 40 and Sexy as Hell!, available on Amazon.com at http://www.amazon.com/Over-40-Sexy-as-Hell-ebook/dp/B01BQN6CBA. For more information, visit http://drrobertmdfacp.com.
1. "Abdominal Fat and What to Do About It"; Harvard Health Publications; October 9, 2015. http://www.health.harvard.edu/staying-healthy/abdominal-fat-and-what-to-do-about-it.
2. Popovic, Srdjan. "Danger Below—Visceral Fat vs Subcutaneous Fat"; Bloom to Fit; October 14, 2010. http://www.bloomtofit.com/danger-below-visceral-fat-vs-subcutaneous-fat.
3. Axe, Josh. "Visceral Fat: What is it and Why its so Dangerous"; draxe.com. http://draxe.com/visceral-fat.
4. Davis, Mark. "Why We're All At Risk For Heart Disease"; Huffington Post; April 13, 2016. http://www.huffingtonpost.ca/marc-davis-/heart-disease-risk_b_9675570.html.