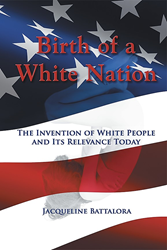 "I was truly blown away by the deeply researched information that Jacqueline Battalora shared in her book, 'Birth of a White Nation.' This is a book that you will not be able to put down and you will be forever changed when you read it!" - Amazon Review
Victoria, Texas (PRWEB) April 26, 2016
This book on race in America paints the social context before the moment "white people" became a separate and distinct group of humanity, one that was invented through deliberate legislation and the enforcement of these laws.
"Birth of a White Nation" provides the underlying reasons why "white people" were created by legislators, and how the establishment of this distinction divided laborers, leading to the practice of white people holding positions of power.
The institutionalization of white people within founding U.S. law impacted Chinese, Mexican, and Irish Catholics within the U.S. in distinct ways, ensuring both of the former would be rendered cheap and dependent labor, while the later had a pathway to whiteness.
The book demonstrates how the social construction and legal enactment of "white people" ultimately compromised all of humanity. Learn how and why America took this path.
Says the author, "During white awareness training sessions and courses that address race, I regularly present socio-legal historical material that exposes the white race as an invention. I have observed time and again that this material has profoundly impacted people."
The reviews are in from Amazon.com:
"Reading this book was definitely an eye opener. I'm an avid student of history and the law … Thank you Jaqueline Battalora for your honesty and effort in explaining how great injustices were created."
"Congress in 1790 determined that in order to become a naturalized citizen, one had to be white … I should hope you would buy this book and see how much more this author has to say about the term white people."
"I was truly blown away by the deeply researched information that Jacqueline Battalora shared in her book, 'Birth of a White Nation.' This is a book that you will not be able to put down and you will be forever changed when you read it!"
"Excellent read. I have recommended it to numerous people. Why were we not told this in school? This is important information for anyone involved justice advocacy, immigration advocacy, or racial justice advocacy."
"The sad truth is: These lies have profound remaining influence in U.S. culture today."
"Excellent history. As a lawyer I was intrigued by the early laws promoting racism that are imbedded in the culture today."
"A book that will change your life."
About the Author: Jacqueline Battalora was born in Edinburgh, Scotland, and lived in Antwerp, Belgium, for six years before her family relocated to Victoria, Texas. The experience of attending high school and middle school in Texas formed her understanding of race in America. While she is currently a lawyer and professor of sociology and criminal justice at Saint Xavier University, she is also a former Chicago Police officer. She holds a Ph.D. from Northwestern University and has been engaged in anti-racist training since the mid-1990s. Her work is referenced in a new publication titled "Why Talk About Whiteness?" from the Southern Poverty Law Center's Teaching Tolerance project. The book is also recommended reading by Teach for America.
Author's website: http://www.JacquelineBattalora.com
"This powerful book traces the history of racism and its effects are still felt today. We are proud to be the publisher," said Robert Fletcher, CEO of Strategic Book Publishing and Rights Agency.
BIRTH OF A WHITE NATION: THE INVENTION OF WHITE PEOPLE AND ITS RELEVANCE TODAY (ISBN: 978-1-62212-722-1) is now available for $14.97 and can be ordered through the publisher's website:
http://sbpra.com/JacquelineBattalora or at Amazon.com or Barnesandnoble.com.
WHOLESALERS: This book is distributed by Ingram Books and other wholesale distributors. Contact your representative with the ISBN for purchase. Wholesale purchase for retailers, universities, libraries, and other organizations is also available through the publisher; please email bookorder@sbpra.net.