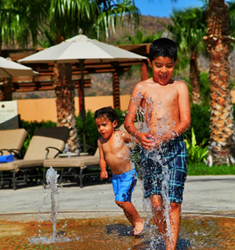 We want families of all sizes to enjoy a luxurious vacation where both adults and children can delight in making memories together through adventure and top-notch hospitality in a magical setting. - Owen Perry, co-owner and president of Villa Group
Islands of Loreto, Baja California Sur, Mexico (PRWEB) April 21, 2016
This summer, families looking for outstanding vacation can create treasured memories and discover the wonders of Villa del Palmar at the Islands of Loreto at an unbeatable price through the resort's Summer Family Gathering Package.
With exceptional service and a variety of family-focused activities, parents and children can enjoy breathtaking views while bonding over bold outdoor adventures and endless relaxation.
"Our guests are our top priority, and we want to do everything we can to make Villa del Palmar at the Islands of Loreto a premiere destination for all," said Owen Perry, co-owner and president of Villa Group. "We want families of all sizes to enjoy a luxurious vacation where both adults and children can delight in making memories together through adventure and top-notch hospitality in a magical setting."
Located between the majestic Sierra de la Giganta mountain range and the spectacular coastline of the Sea of Cortez, the resort is perfect for family exploration and adventure, with spectacular views along the way.
Meant to make vacationing hassle-free from the start, as part of the package, families can utilize the resort's pre check-in process that will allow families to check-in online from the comfort of their own homes prior to their vacation in order to skip the check-in line when they arrive. The online check-in process takes a mere three minutes.
Once there, families will enjoy a four-night, five-day stay in a spacious Deluxe Studio Room, which includes a kitchenette perfect for cooking quick meals and an oversized terrace that is almost as large as the room itself.
The package allows families to explore the area's best land and sea escapades, making for perfect family bonding time. From family kayaking and guided hiking tours, to LED paddleboard tours (for kids aged 12 and up) and biking excursions, families can experience the beauty of the resort's indigo waters, exquisite nature trails and flourishing sea life together.
A highlight of the package includes the opportunity to try a Hooka diving reef tour, the newest diving experience in which four guests at a time are attached to a "Hooka" floating air device that allows them to swim at a shallow depth of 20 feet while being surrounded by plentiful fish and marine life in the Sea of Cortez, otherwise known as the "Aquarium of the World." The safe and friendly diving experience is available for guests ages 12 and up.
For kids younger than 11 years old, families are welcome to exchange the Hooka diving and LED paddleboard tour for the Danzante Island Tour, which allows guests to ride in a 24-foot Apex vessel while they visit an array of Loreto's secret wonders. The tour's Naturalist Captain will entertain visitors with stories about the island's formations, traditions and rich history.
In addition, each adult can participate in a free golf clinic hosted by an in-house head PGA Golf Professional at the resort's new Danzante Bay Golf Club. The clinic offers a great option for beginners to receive an introduction on golf basics. Designed by Rees Jones, a world-renowned golf architect and "U.S Open Doctor," the Danzante Bay Golf Club is a true rarity, featuring a mixture of awe-inspiring views and luscious green holes for golfers of all skill levels to enjoy.
For families looking to relax, the resort offers family-focused spa experiences exclusive to kids and youth 12 years and younger. Parents and children alike can indulge in soothing massages, as well as facial and beauty salon services in the resort's luxurious Sabila Spa. When families purchase the Summer Family Gatherings package, they will receive a complimentary $25 coupon per adult to the resort's world-renowned Spa.
Families who choose Villa del Palmar at the Islands of Loreto also get access to the resort's Kid's Club, a daycare service for kids ages 5 through 12. As a part of the program, kids can explore the wonders and magnificence of the island's unique landscape through activities focused on creativity, education and teamwork. Activities include nature walks, sand castle building, Mexican handicraft making, Mexican cooking lessons, shell painting, and much more.
The Family Gathering Package starts at $1,303, covering the cost of two adults and two children up to age 13. The package is available to families who book May 1 through August 25, 2016, for stays at the resort through October 15, 2016.
Families can look forward to a top-rated experience, as the resort has been nominated for its second year in a row by the World Travel Awards as Mexico's Leading Beach Resort and also in a brand new category – Mexico and Central America's Leading Resort. Votes can be cast at http://www.worldtravelawards.com/vote-for-villa-del-palmar-loreto-2016.
For resort reservations or additional information, please contact the resort at reservaciones.vdpl(at)vgloreto(dot)com, call 800.790.4187 or visit http://www.villadelpalmarloreto.com.
About Villa del Palmar at the Islands of Loreto: Baja's First Million Star Resort
Villa del Palmar at The Islands of Loreto is a luxury destination resort on the Sea of Cortez, off the eastern coast of the Baja peninsula overlooking Danzante Island (one of five in the region). Flanked by the rugged Sierra de la Giganta range, the Villa del Palmar is the first and only resort to occupy one of the Gulf of California's last virgin coastlines. The resort features 181 new, spacious, beautifully appointed Deluxe Ocean View, one, two and three bedroom Suites with terraces and stunning ocean and mountain views, three restaurants offering gourmet dining, an attentive English-speaking staff, five swimming pools, a 39,000 square-foot Sabila Spa and Wellness Center, two tennis courts, beautiful beaches, a private beachfront Danzante Bungalow and a mild and warm climate year-round. The 7,400-yard Rees Jones-designed Danzante Bay golf course will offer a challenging, yet friendly course that works with the natural beauty and serenity of the surrounding environment.
Guests can enjoy PADI-certified SCUBA diving lessons and snorkeling tours in the protected indigo waters that explorer Jacques Cousteau once dubbed the "Aquarium of the World." Outdoor adventurers can also experience tours of the nearby Coronado, Danzante and Del Carmen Islands atop an inflatable APEX boat, as well as swimming, world-class fishing aboard the "Mad Dash" tournament boat, paddle boarding, kayaking, whale watching and mountain biking.
Stay up-to-date on the latest happenings on Facebook (http://www.facebook.com/villadelpalmarattheislandsofloreto) or Instagram, Pinterest and Twitter as @VilladelPalmarL.