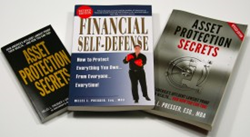 Boca Raton, Florida (PRWEB) April 21, 2016
Nobody goes into a marriage expecting to get divorced, but admittedly, divorce happens more often than not. The on going statistic states that more than 50% of marriages, in any given year, will get annulled or go through divorce. An individual's financial life can be turned upside down in a divorce. It is important to be preemptive and plan for a divorce before its too late.
1. Recognize that States have Different Laws Governing the Division of Assets
Varying state laws governs agreements and the division of assets. Some states follow the common law property rules and while other states follow community property rules. The common law system provides that property acquired by one member of a married couple is owned completely and solely by that person. Marital property in community property states is seen as owned by both spouses (50% each). Therefore, you should check your state laws to verify which planning tools you can utilize, and how to execute them validly. See whether your state is a common law or tenancy by the entirety state by visiting out website: http://www.assetprotectionattorneys.com/documents/TBE.pdf.
2. Create an Asset Protection Plan before Divorce
Be proactive and create an asset protection plan before marriage, or definitely before you head for divorce. While the asset protection plan protects against creditors and lawsuits, it can also protect against divorce. For a bulletproof plan, you can use domestic limited liability companies ("LLC"), domestic limited partnerships ("LP"), or even international entities such as LLC's and/or trusts. You can also encumber your assets with liens or use exemption planning such as annuities and/or life insurance.
3. Execute a Pre-Nuptial Agreement Before Marriage
A pre-nuptial agreement is an agreement entered into before marriage, or civil union where allowed, that details how property will be divided upon divorce as well as procedures for spousal support. This is essential to execute before marriage, as that is the period of time when your mind is most clear. If you wait until a divorce, then often emotions get in the way of rationality and the division of assets goes catastrophically.
4. Execute a Post-Nuptial Agreement After Marriage
A postnuptial agreement is a written contract executed after a couple gets married, or have entered a civil union, to settle the couple's affairs and assets in the event of a separation or divorce. A postnuptial agreement can serve the same purposes as a pre-nuptial Agreement. This agreement is also useful if you are on your second or third marriage and have children from the prior marriage. You may use this agreement to ensure that certain assets go to particular children.
5. Execute Separate Revocable Living Trusts before Marriage
Placing separate property into separate revocable living trusts is a great way to plan for divorce since most states will not factor the separate property into the division equation upon divorce. These trusts should be prepared and executed pursuant to the state laws in which you reside.
6. Keep Gifts, Bequest, Devise or Descent in Separate Accounts
In general, gifts that are given based on bequest, devise or descent are most often deemed separate property and not factored into the division equation upon divorce. However, it is important to put these awards into separate bank accounts as to not allow for any confusion.
The Presser Law Firm P.A., Asset Protection Attorneys, represents individuals and businesses in connection with the establishment of comprehensive Asset Protection plans that incorporate both domestic and international components.
Visit the Law Firm's Visit the Law Firm's website (http://www.AssetProtectionAttorneys.com) for access to educational material on asset protection, business law, estate planning, and probate including webinars, articles and detailed legal explanations.
Contact The Presser Law Firm, P.A., Asset Protection Attorneys for a Complimentary Preliminary Consultation with one of our attorneys or to receive complimentary copies of our latest best-selling books on Asset Protection.
"For every 60 minutes you spend making money, spend 60 seconds thinking about how to protect it!" states attorney Hillel L. Presser, Esq., MBA regarding the importance of protecting your assets proactively.