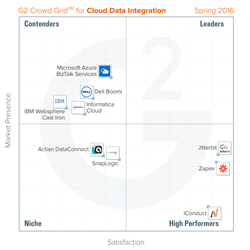 CHICAGO (PRWEB) April 21, 2016
G2 Crowd, the world's leading business software review platform, today released the Spring 2016 Cloud Data Integration Software Grid report to help businesses make the best cloud data integration technology decision. Jitterbit, Zapier, and IConduct were named High Performers in the report, earning strong customer satisfaction marks with smaller market presence scores. Jitterbit earned the highest overall satisfaction score while Microsoft Azure BizTalk Services earned the highest overall market presence score.
The Grid leverages customer satisfaction data reported by authenticated users along with vendor market presence determined from social and public data. Based on a combination of these scores, each software solution is categorized as a Leader, High Performer, Contender, or Niche.
Key Findings:

Leaders Falter — Since the Fall 2014 report, Jitterbit, Zapier, and IConduct have redefined the satisfaction scale for the cloud data integration market, pushing other products left on the Grid. No Leaders remain as previous Leaders, Microsoft Azure BizTalk Services and Dell Boomi, have moved and are now classified as Contenders. Other High Performers moved left to become Niche products as well.
Code-Free Integration — Reviewers primarily measured integration products on their ability to perform data management and transferal tasks without developer resources. Visual interfaces for data orchestration and automatic data mapping functionality were preferred.
Updates, Updates, Everywhere — A new problem that reviewers are solving with cloud data integration software is implementing integrations that won't break due to cloud applications' unpredictable and frequent software updates. Cloud data integration products abstract the complexity of APIs and data feeds and can dynamically manage changes from 3rd party applications.
About the Cloud Data Integration Software Grid report:
The report is based on more than 200 reviews written by business professionals.
Of the roughly 55 products listed in G2 Crowd's Cloud Data Integration category, the ranked products each received ten or more reviews to qualify for inclusion on the Grid.
About G2 Crowd, Inc.
G2 Crowd, the world's leading business software review platform, leverages more than 70,000 user reviews to drive better purchasing decisions. Technology buyers, investors, and analysts use the site to compare and select the best software based on peer reviews and synthesized social data. Monthly more than a half-million people visit G2 Crowd's site. Co-founded by the founder and former executives from SaaS leader BigMachines and backed by roughly $12 million in capital, G2 Crowd aims to bring authenticity and transparency to business technology research. For more information, go to G2Crowd.com.