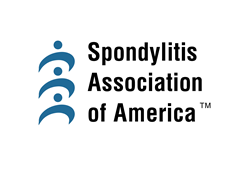 Spondylitis typically strikes young people between the ages of 17 and 45."
Van Nuys, CA (PRWEB) April 22, 2016
Millions of Americans with back pain may suffer from a chronic form of spinal arthritis and not even know it. As part of Spondylitis Awareness Month, the Spondylitis Association of America (SAA) has released a new video to reach the undiagnosed.
According to the Centers for Disease Control, more than 2.7 million adults in the US live with spondylitis, making it more common than multiple sclerosis, cystic fibrosis, and Lou Gehrig's disease (ALS)--combined. Yet, the average time from onset of symptoms to diagnosis is between 7 and 10 years. This time period is when the majority of damage takes place, so SAA created the short video to reach people in these critical years.
"Our biggest challenge is to create awareness for the disease, so people who have persistent back pain can seek an accurate diagnosis, especially young people," says Laurie Savage, SAA's Executive Director. "Because most of the damage caused by spondylitis occurs in the first 10 years, early diagnosis means early treatment to improve quality of life.
"By asking our members and friends to spread awareness, we hope to get the word out about spondylitis to more people than ever before."
Since spondylitis is an inflammatory condition (rheumatic disease) and not a mechanical one (caused by injury) it will not go away on its own.
While there is no cure yet for spondylitis, effective treatments are available and include medications, regular exercise and good posture practices. Starting treatment early is essential to ensure the best possible outcomes and the highest quality of life.
About Spondylitis
Spondylitis is the term used to refer to a group of chronic, inflammatory diseases that generally strike young people between the ages of 17 and 45. Typically, spondylitis causes pain and stiffness and, in the most severe cases, can result in a total fusion of the spine and/or neck, leading to disability. Although spondylitis primarily affects the spine, it is not uncommon for the disease to impact the joints of the shoulders, hips, knees and feet, as well as cause inflammation of the eye. More rarely, because spondylitis is a systemic (whole body) condition, other organs such as the heart and lungs can also become involved.
About the Spondylitis Association of America
The Spondylitis Association of America (SAA) is the only nonprofit organization in the US dedicating all of its resources to improving the lives of people with ankylosing spondylitis and related diseases. Established in 1983, SAA is committed to increasing awareness of spondylitis, providing information and support to patients and their families, and working to prevent, and ultimately, uncover a cure for the disease.
SAA produces the most comprehensive library of spondylitis resources available in the US -- including books, DVDs, CDs, brochures and other publications; an interactive website - spondylitis.org; a quarterly, advertising-free news magazine, and a network of nationwide Educational Support Groups to educate and support people living with this chronic illness.
At the forefront of every major milestone achieved in spondylitis education, research and advocacy in the US, you will find the Spondylitis Association of America.