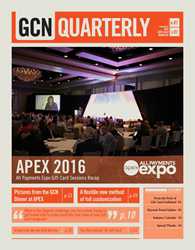 "We're happy to announce a new way to bring original content to our membership, and another way they can promote themselves and achieve their goals." Elle Mahony, Gift Card Network Director
Vancouver, WA (PRWEB) April 27, 2016
The Gift Card Network, the home for Everything Gift Card, has just released its first quarterly, digital publication called the Gift Card Network Quarterly. The first edition features a recap of a series of educational and collaboration sessions at the All Payments Expo that Gift Card Network managed and mediated, and featured experts from the membership.
In addition, GCN's 2016 Challenge Guide, featuring challenges and solutions for the gift card space, has also been released digitally, a companion to the printed guide released at All Payments Expo and distributed to a large group of companies in the gift card space. Check out the Digital Release of the 2016 Gift Card Network Challenge Guide featuring the Gift Card Network Heroes!
These publications were made possible via the Network's new account manager structure, where members are assigned a creative manager who also manages their design and placement opportunities and member participation, as a result of the GCN's innovative point earning system. Members can earn GCN points through investment or participation in network discussions and events. These points are then redeemed to reserve space and design services for placement online, in digital or physical publications, and other benefits.
Featuring animated images, key industry discussions and event recaps, as well as a new series of expert columns, the Quarterly digital publication is an example of maximizing the ways technology and design can help bring attention to member articles from the membership and beyond.
The GCN Challenge Guide is a classic resource guide in its fourth printing, the only Gift Card specific printed publication except for the annual Gift Card Network B2B Guide that comes out every fall.
"We'd like to thank Gift Card Network Members for making this possible," says Matt Davies, GCN founder, "We've had amazing feedback and participation for the new publications, and will continue to find ways to feature and build educational information for the industry."
About The Gift Card Network:
The Gift Card Network is the home of Everything Gift Card, and is the first and largest gift card specific media and collaboration network. The membership is made up of gift card experts from merchants, vendors, and distributors, and encourages collaborative networking, education, and allows members to promote themselves and their products.