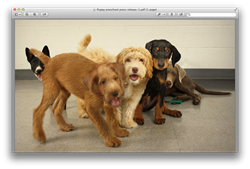 "Puppies need preschool for the very same reason children do. Our goal is to provide puppies with the foundational skills to become well-rounded companions and/or K9 athletes." - Trainer, Penny Scott-Fox
Pasadena, California (PRWEB) April 25, 2016
Experts agree that the primary and most important time for puppy socialization is the first three months of life, and Scott-Fox Puppy Preschool was designed to create the most enriching and safe environment for puppies to learn and grow during this pivotal period. "Puppies need preschool for the very same reason children do. And proper socialization means planned and gradual exposure to people, animals, and stimulation like new sounds and physical elements," says Scott-Fox. Much like children's preschool, the day is divided into activity time, play time, nap time and, of course, snack time. Grooming, including teeth brushing, is also a part of the daily routine. Each puppy has their own cubby, complete with crate, bedding, exercise pen and toys. The pups play together in supervised small groups, as well as one on one with the trained staff.
It is a misconception among many pet owners that young pups must be kept isolated. "Puppies go through a sensitive period of socialization when they are uniquely prepared to benefit from exposure to social opportunities. From the time the owner adopts the puppy until 3 to 4 months of age, it is critical that the owner get the puppy out to meet other animals and people, and experience many different kinds of environments," said American Veterinary Society of Animal Behavior president, Dr. E. Kathryn Meyer.
"This formative period is also the best time to prevent and correct the most common behavioral problems that people encounter while raising their pups," says Scott-Fox. Positive training methods are used and the staff is in close contact with owners to offer information and guidance. "Our goal is to provide puppies with the foundational skills to become well-rounded companions and/or K9 athletes."
For more information visit http://www.scott-foxpuppypreschool.com/whats-puppy-preschool.html or email pennysf(at)yahoo(dot)com.
Penny Scott-Fox is one of the nation's most respected dog trainers, behavior specialists and K9 sports competitors. She worked for the Pasadena Humane Society in Pasadena, California for 12 years before starting Scott-Fox Training and is a Fellow of the prestigious Pet Behavior Institute in Durham, England. She has developed several behavior modification programs for dogs and cats in shelter and rescue environments. Aside from her very popular classes for dogs and their families at Scott-Fox Pet Dog Training , Penny's successful techniques with dogs and their owners have been covered by prominent media outlets around the world, among them the Discovery Channel, CNN, Fox, French television, Japanese radio, the Los Angeles Times, and People magazine of Australia.