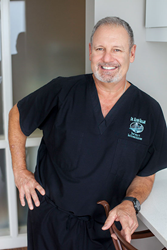 Mount Pleasant, SC (PRWEB) April 25, 2016
Dr. Kevin Hogan has recently completed a specialized continuing education course focused on the latest advancements in treating patients with Juvederm® or Botox® in Mount Pleasant, SC. Dr. Hogan has taken hundreds of hours of continuing education courses to ensure his knowledge as a general and cosmetic dentist is focused on the most beneficial techniques for his patients. Numerous aesthetic and therapeutic procedures that utilize these advanced treatment procedures are offered at Dr. Hogan's state-of-the-art practice in Mount Pleasant.
Botox® and Juvederm® are treatments crafted by Allergan, a leader in the field of pharmaceuticals. Allergan aims to not only design solutions for medical needs, but to increase access to high-quality care across the world. With injections of FDA approved Botox®, a prescription medicine that inhibits muscle activity, Dr. Hogan can offer patients up to three months of relief from the pain or tissue damage associated with several oral health issues. Strategically placed Botox® injections allow Dr. Hogan to prevent tooth clenching and grinding, thereby protecting patients from the pain associated with resulting headaches and tooth damage. Dr. Hogan also uses Botox® to relieve discomfort associated with temporomandibular joint (TMJ) disorder, a condition that causes pain and stiffness in the jaw and surrounding tissues.
Additionally, Dr. Hogan offers treatments as a cosmetic dentist that incorporate Juvederm® or Botox® in Mount Pleasant, SC. Injections of Juvederm®, which is a dermal filler, can help plump the lips or facial skin for several months. This treatment can address cosmetic issues, such as wrinkles, and give patients a smoother, younger facial appearance. Injections of Botox® can similarly lessen the appearance of wrinkles by relaxing the muscles that cause them for as long as four months.
As a respected general and cosmetic dentist, Dr. Hogan is excited to offer the most advanced treatments now available with Juvederm® and Botox® in Mount Pleasant, SC. Those interested in learning more about these treatments, or the other services he offers, are urged to schedule consultations through Dr. Hogan's website, http://www.smilesbyhogan.com, or by calling (843) 216-0908.
About the Doctor
Dr. Kevin Hogan is a general dentist providing individualized care for patients in Mount Pleasant, SC. Dr. Hogan is a graduate of the Indiana University School of Dentistry and has completed hundreds of hours of continuing education courses to stay contemporary with the latest dental technologies. In addition, he has also completed coursework with the Dental Organization for Conscious Sedation and has lectured at the University of North Carolina, Emory University, and the Saginaw Valley University. Dr. Hogan is a member of the American Dental Association, International College of Cranio-Mandibular Orthopedics, Academy of Laser Dentistry, International Association of Physiologic Aesthetics, Institute for Advanced Laser Dentistry, DOCS (the Dental Organization for Conscious Sedation), International Congress of Oral Implantologists, and the South Carolina Dental Association. He is also a past member of the American Straight Wire Orthodontic Association, Maxillofacial Orthopedic Growth and Development, the American Academy of Pediatric Dentistry, and the Functional Orthodontic Society. He and his team are dedicated to providing exceptional oral care to patients through personalized treatment plans. To learn more about the services offered by Dr. Hogan, please visit his website at http://www.smilesbyhogan.com or call (843) 216-0908.