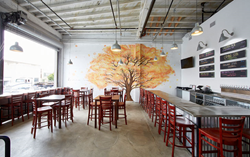 "We have been working toward this day for almost two years now, and...so many good people have come into our sphere – artists, businesses we've partnered with, neighbors and locals. We're looking forward to raising a glass with them." - Andrew Casteel
San Francisco, CA (PRWEB) April 22, 2016
After a highly anticipated soft opening in mid-March, Laughing Monk Brewing will officially open to the public on Saturday, April 23rd in conjunction with Hunter's Point Shipyard Open Studios in a day into evening celebration including bar bites from food partner Azalina's, a Devil's Gulch Ranch pig roasted by The Whole Beast, and DJ Jack Frost.
BREWERY
Located at 1439 Egbert in San Francisco's Bayview, Laughing Monk is a reflection of founder Andrew Casteel's community spirit and the inspiration he has felt by connecting with longtime and incoming Bayview businesses including Old Skool Cafe, All Good Pizza, Radio AfricaKitchen and Seven Stills SF.
The space itself is completely alive with murals and art covering most of its walls by local artists, many from Imprint.City , which Casteel co-founded in support of community art in the Bayview.
BEERS ON TAP
Created by Head Brewer Jeff Moakler, the nine beers on tap for the Grand Opening include:
Extra Pale Ale, Belgian Tripel, Dry Hopped American Blonde, Pink Boots Gose, Coffee Stout with cold-brewed coffee from neighbors Artis Roasters, Pale Ale with Mosaic Hops, Belgian Dubbel, IPA brewed with New Zealand Rakau hops, and Golden Ale brewed with Chamomile.
COMMUNITY GARDENS
A number of Bayview Community Gardens are already harvesting Chamomile for Laughing Monk's Golden Ale including: Huli Huli Community Garden, Adam Rodgers Community Garden, Abundance Community Garden and Oakdale Community Garden.
"We have been working toward this day for almost two years now," says Casteel, "and in the process so many good people have come into our sphere – artists, businesses we've partnered with, neighbors and locals. We're looking forward to raising a glass of good beer to Bayview spirit."
The celebration will begin at noon on Saturday April 23rd and continue until 10 pm with music throughout the day and plates after 5 p.m.
Laughing Monk Brewing is located at 1439 Egbert Avenue, San Francisco, CA 94124
Phone: (415) 890-5970. Regular Hours: Thu-Fri: 3:00 pm - 10:00 pm, Sat:12:00 pm - 10:00 pm, Sun: 12:00 pm - 8:00 pm @LaughingMonkSF
ABOUT LAUGHING MONK BREWING
Laughing Monk Brewing is a small batch craft brewery in San Francisco that blends traditions from California and Belgium with a mix of local, seasonal ingredients. We make great beer with an eye toward innovation and the independent spirit that guides us. We offer an ever-expanding array of unique beers, including those for immediate enjoyment and those that can be aged to perfection. So raise a glass with us in the spirit of laughter, libation and adventure. Laugh on!