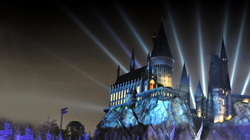 A recent poll revealed that J.K. Rowling is the top followed author on Reader's Legacy, and to celebrate, the company is offering 20% off of each of her novels
(PRWEB) April 22, 2016
Since 1997, J.K. Rowling has been captivating audiences with the story of a very special boy and his very famous scar. Recently, Rowling was voted as the most influential author on ReadersLegacy.com, and to celebrate, the website will be having a sale on all J.K. Rowling books. The sale comes only 2 weeks after the opening of Universal Studios's Harry Potter theme park, "The Wizarding World of Harry Potter", in Burbank, CA. The theme park, which opened on April 7th, 2016, has steadily become the most popular attraction on the Universal Studios lot, speaking volumes of Rowling's literary genius come to life.
From April 25th – April 30th, Reader's Legacy will be offering 20% off of each of Rowling's novels as part of a special sale in her honor. Reader's Legacy's mission in creating such a sale, in addition to celebration, is to call attention to a special grant program they have created in order to give away 1 million physical books in support of literacy programs! As people join the site to participate in the sale, they earn "LitCoins". When the users redeem their LitCoins for a book, a percentage of each transaction will be donated to children's literacy programs via grants from ReadersLegacy.com.
Spreading a love of books and ending illiteracy around the world is 100% possible, and with the help of this sale, Reader's Legacy, CEO Ken Dunn and his team believe that they will be one step closer to achieving that goal!
About Reader's Legacy:
A social media platform for readers and authors to connect over their mutual love of literature. Reader's Legacy is a company dedicated to changing the way people write, read and experience books by providing solutions and resources to bridge the modern-day virtualization wave.
Media inquiries: Shannon Lutz (702)912-2405 Shannon(at)NextCenturyPublishing(dot)com