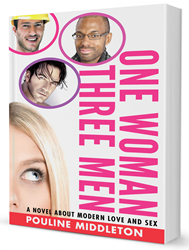 ""Under the humor is a serious look at modern love and sex," states author Pouline Middleton.
Los Angeles, CA (PRWEB) May 09, 2016
Wonder why love can be so difficult and what to do about it? A truly modern woman, Pouline Middleton proposes that it is time for a new model of conscious dating that involves a deeper and more holistic exploration of one's romantic needs by dating in a new way. Pouline did this herself, found love - and wrote a book about it.
Following a divorce and a relationship with a cheating man, single mother Pouline Middleton decided that there was too much pressure to find "the one" and follow society's ideal of marriage, children and the white picket fence, while nearly half of all marriages end in divorce.
She decided to change up the dating model, intentionally going out with three different men at a time instead of just one. She dated: a guy just to talk with, a man to be intimate with, and a handyman. Her experiment took the pressure off and taught her a lot about men, herself and love. It helped her break through the "falling in love" patterns that can make us blind when it comes to love. Her model allows each dating partner to deliver only what they agree upon, so, the partners can get to know each other and not date an "imagined" person.
Her book, One Woman Three Men turns Middleton's true-life experiences into a witty, provocative and saucy novel, a kind of mélange of Eat Pray Love and Bridget Jones's Diary. The book is a fun summer read, but also inspiring for those who want to bring different results to their love life.
Written in diary form, the main character Elizabeth tests out this three-men model of dating over the course of several months. Her diary posts attest to her progress, revealing how she reacts to the highs and lows, hot and colds of each date and how she learned to empower herself to finally find exactly the man she is looking for.
Middleton's invention is striking a chord in many people struggling with dating and love. "One Woman Three Men asks a serious question," says Middleton,"Is the way you go about finding love really working? My book suggests that single and divorced people of all ages today have other options to find a relationship. The idea of conscious dating where you learn to really know what their priorities are and what each partner can bring is a small change with potentially big and wonderful consequences." Middleton's approach to dating and modern love is a viable concept for men seeking women and same sex relationships as well.
About the Author:
Pouline Middleton has been a Modern Love coach since 2010. Danish by birth, she holds a M. Sc. in Economics and has worked extensively around the world. She worked for several companies in sales and marketing until she decided to become a love coach. Pouline actually experienced the three-men model for a period in her own life; this exercise led to her meeting 'the one' in 2013 and they are now happily married.