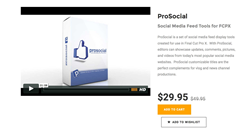 This Final Cut Pro X plugin was made to give video the feel of social media.
Aliso Viejo, CA (PRWEB) April 20, 2016
ProSocial is a set of social media feed display tools created for use in Final Cut Pro X. With ProSocial, editors can showcase updates, comments, pictures, and videos from today's most popular social media websites. ProSocial customizable titles are the perfect complements for vlog and news channel productions.
ProSocial includes an array of picture, video, and comment based designs from the internet's most popular social media destinations. Easily showcase a popular comment from Facebook or display a beautiful picture from Instagram's newsfeed. ProSocial makes it simple to add a social media graphic to any Final Cut Pro X production.
ProSocial title designs are completely self-animating. To control the animation, look toward the inspector window and locate the "Animate From" slider under the animation controls section. Drag the slider to closer to the left end to animate ProSocial presets from the bottom of the screen and vice-versa.
ProSocial is designed with on-screen controls that allow users to position, scale, and rotate presets in 3D space. For a more dynamic look, rotate ProSocial and increase the "Angle of View" to skew the perspective of the camera. Add a drop shadow to create the illusion of space between the preset and the footage below.
ProSocial is incredibly easy to use in Final Cut Pro X. Simply drag a title preset over footage in the FCPX timeline. Next, insert media to fill the drop zones available and alter the text. Lastly, alter the scale and orientation of the preset. ProSocial will do the rest.
Established in 2006, Aliso Viejo, California-based Pixel Film Studios is an innovative developer of visual effects tools for the post-production and broadcast community. Their products are integrated with popular non-linear editing and compositing products from Apple FCPX. Apple, the Apple logo, Mac OS X, and Macintosh are registered trademarks of Apple Inc. in the U.S. and/or other countries. All other trademarks and trade names are the property of their respective owners.