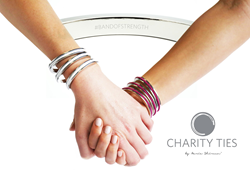 San Diego, CA (PRWEB) April 21, 2016
Functional fashion accessory company, Maria Shireen™ (http://www.mariashireen.com) - makers of the popular b+sweet, bittersweet and signature by Maria Shireen™ collections of patent-pending hair tie bracelets – today launches its Charity Ties™ initiative. Under this initiative, the company will offer hair tie bracelets with #BANDOFSTRENGTH engraved on them, and will include a corresponding hair tie in a color that represents the specific cause. For each bracelet sold, ten dollars ($10) will be donated to a related organization dedicated to making a positive difference. Moving forward, the company expects to benefit three to four social good causes per year.
This month, Maria Shireen kicks off its first campaign with a hair tie bracelet dedicated to postpartum awareness and support. The bracelet (http://www.mariashireen.com/products/charity-ties) retails for $45 and includes a white hair band as well as the #BANDOFSTRENGTH engraving.
As a new mom, Maria Shireen Co-Founder and CEO Shireen Thor experienced first-hand the difficult and challenging effects of postpartum depression following the birth of her son in 2015. As someone who has come through the experience and launched a successful accessories business in the process, she and her husband, Maria Shireen co-Founder Arni Thor, aim to support women through programs that address postpartum symptoms and experiences as well as through furthering research into the solutions for postpartum. With a background in engineering and medical device product development, this campaign is a perfect example of her continued dedication towards easing the challenges of others.
"We believe in the power of compassion and in the strength that is created when we band together in support of a common cause," said Thor. "We know there are many causes that are close to the hearts of our customers, and we believe that by being able to wear a positive reminder every day of the community and friendship around us, we will feel more connected and supported as we journey onwards."
Since Maria Shireen's debut in April 2015, its hair tie bracelets have been featured in leading print and online media outlets, on national television shows and has created many retail partnerships. With over 110,000 bracelets sold around the world to date to customers in 40 countries, the company will be expanding in 2016-2017 into mass retail and television shopping networks. Maria Shireen's portfolio currently includes products aimed at both the luxury and mass retail markets, and is available for all ages.
To learn more about b+sweet, bittersweet and signature by Maria Shireen™, please visit http://www.mariashireen.com.
Find us on Facebook and Instagram at https://www.facebook.com/MariaShireenBracelet/ and https://instagram.com/maria_shireen/
About Maria Shireen:
Founded by design engineers, Shireen and Arni Thor, Maria Shireen™ is a functional fashion accessories company serving the $2.3 billion global fashion accessories marketplace. The company currently designs, produces and markets its patent-pending hair tie bracelet under its b+sweet, bittersweet, and signature by Maria Shireen™ brands.
The company is based in San Diego, California – the twentieth largest bracelet accessory market in the world.
Media Contact:
Shaila Arora
Arora PR
shaila(at)arorapr(dot)com
310.717.8255
Sophia Paliov
Arora PR
sophia(at)arorapr(dot)com
949.525.5022