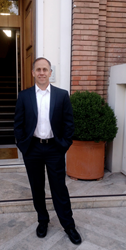 Castle Rock, CO (PRWEB) April 22, 2016
Mr. Collins—one of Intterra's three founders—has been the Chief Operating Officer since the company's start in 2010. Announcing the new appointment, Intterra's Chairman and out-going CEO Kate Dargan says, "Brian's talent for managing the details, his engineering mind, passionate heart, and seemingly endless energy will guarantee his success as Intterra moves into its next phase of growth." Reflecting on his appointment, Collins said: "I am honored and excited to continue our transition from a small group with a 'big idea' into a team that can put ideas into action and positively impact the way our first and second responders protect the public."
Prior to forming Intterra, Collins was a Senior Principal at SRA International, previously performed civil service within the National Geospatial-Intelligence Agency, was a technical manager for the Boeing Company and Autometric, Inc., and (most importantly) served our nation as a United States Marine. He is a graduate of Rice University and the Naval Postgraduate School.
Collins gives a lot of credit for their success to Dargan, saying "Kate's leadership helped us grow from a small start-up to the leading Fire and Emergency Response Software-as-a-Service provider. She has built a fantastic company and helped us achieve a vision that was, frankly, seen as pie-in-the-sky by many in the fire community. Our growing team of committed customers and 'Intterrans' is full of fresh ideas and I look forward to helping them realize their vision." In addition to continuing as Chairman, Kate Dargan will also serve as Chief Strategic Officer for Intterra.
As CSO, Kate will blend her skills in forward-thinking and strategic planning with the on-going efforts of the rest of the company officers. Co-founder, David Blankinship, will continue to serve as Chief Marketing Officer. David's efforts to blend together Intterra's existing clients, technology and public safety partners, and future markets has fueled Intterra's increased market presence. And Dan Walton, will continue as Chief Technical Officer.
To learn about Intterra's flagship product, SituationAnalyst, visit http://www.intterragroup.com/situationanalyst.