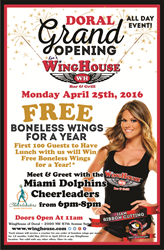 We are thrilled to open our doors in Doral and become an active member and supporter of the community,"
Doral, Florida (PRWEB) April 21, 2016
Doral will become a little more attractive and a lot more fun when The WingHouse Bar & Grill of Doral hosts its grand opening celebration on April 25th, 2016.
Florida-based WingHouse Bar & Grill is known throughout the state for being brilliant at the basics: delicious food, cold beer and not to mention its gorgeous WingHouse Girls. With over 200 seats, including a soon to be outdoor patio area, The WingHouse of Doral is the sports lover's destination to watch the best football games, major league sports, pay-per view events and more.
"We are thrilled to open our doors in Doral and become an active member and supporter of the community," said Terry Ryan, chief executive officer of The WingHouse. "The Doral community has already welcomed us with open arms, and we couldn't be happier to feel so embraced. We believe that supporting our communities is vitally important, and we look forward to doing our part in Doral, starting with bringing 100 new jobs to the area."
"We'd also like to extend a special thank you to all the officials who helped us along the way at the Doral city office along with the Dade County offices." Ryan added. "Their assistance was instrumental in getting to the opening of this new location."
The entire community is invited to the Grand Opening of The WingHouse of Doral on Monday, April 25th, 2016. The doors will open at 11am with a ribbon cutting, and customers who are among the first 100 to arrive for lunch will win free boneless wings every month for a year. Then from 6pm-8pm the Miami Dolphins Cheerleaders will be meeting and greeting with fans.
The Doral WingHouse is located at 2000 N.W. 87th Avenue, Suite #7, Doral, FL 33172.
The WingHouse is proud to invite members of the media to the complimentary VIP friends and family weekend on Friday, April 22nd, and Saturday, April 23rd, 2016. Please RSVP to secure your date and time by contacting Arianna Marshall: amarshall(at)winghouse(dot)com.
All alcohol proceeds from the opening VIP weekend will be donated to Jack and Jill's Children Center. Over the years, Jack & Jill has provided more than 14,000 children one million hours of child care.