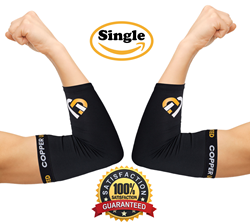 "I'm taking this less for the copper and more for the compression, but I love it. It's the perfect "hug" for my tennis elbow problems (upper forearm pain that feels like chronic muscle soreness)," said Amazon Reviewer PJB.
Longview, Texas (PRWEB) April 23, 2016
Copper United, a revolutionary researcher, developer, and manufacturer of muscle and joint relief braces that harness the natural abilities of copper, continues to offer the most transformative approach to elbow joint relief and comfort with their copper-infused Elbow Sleeve. A compression brace designed to relieve pressure, pain, and discomfort from any elbow, the Elbow Sleeve uses a non-traditional method of incorporating natural copper for a pressure reduction.
"We're committed to developing the very best braces for not only providing pain relief to the users, but also to encourage repair and long-term recovery," said Anthony Ferris, Founder and Owner of Copper United. "Our Elbow Sleeve is infused with natural copper for establishing an electromagnetic field over the elbow joint. The field helps body's cure, regenerate nearby tissues, and once absorbed by the skin, can even treat a variety of skin illnesses."
For centuries, doctors have been experimenting with the natural healing and antibacterial elements of copper. A common metal found in nature, copper is not only essential to all living organisms; it is also found within our muscles and bones.
Due to its high concentration in our bodies, wearing an elbow brace infused with copper generates an electromagnetic field between the brace and inflicted joint. Copper is very highly thermal, and connects with other copper molecules through electricity. The magnetic field then provides ongoing relief and injected regenerative properties the entire time the Elbow Brace is worn.
"For years, practitioners have been toying with copper's ability to relieve arthritis pain and discomfort," said Anthony. "We decided to take this natural healing ability and incorporate it into the very foundation of our Elbow Brace for constant relief. Why settle for partial comfort when it can be had 24-7?"
Simply adding copper to the nylon fibers was not sufficient enough for Copper United. They had a team of doctors and experts patent a unique, new and innovative technology that bonds organic copper onto fiber macromolecules. They capitalized from the fact that copper bonds with Nylon at the deepest level. The resulting patented technology created an Elbow Brace with longer durability and antimicrobial of the copper against microbes, particularly EMRSA.
In addition to copper's electromagnetic properties, it also carries an antibacterial element, making it near impossible for bacteria and other diseases to take root in the Elbow Brace. The antibacterial element is extremely efficient in eliminating odors caused by microbes. Copper United's fabric kills >99.9% of microbes after 40 washes, proved by an International Testing Report.
"Copper's benefits are limitless," said Anthony. "It not only provides joint relief and rejuvenation, it also wards off bacteria and infectious diseases that are common in gym locker rooms, sports equipment, etc. By using copper, our Elbow Brace cannot virtually contract a skin disease for the user."
Copper United's infusion process emphasizes utilizing organic copper complexes so that their Elbow Braces are chemically bonded onto the fiber macromolecules. The bond prevents unwanted odor and smells too many people struggle with when using a sport's brace.
Because their Elbow Brace is germ-free and odor-free, users can wear the brace all day, every day with a quality comfort design. The Elbow Brace is easy to wear, light, and soft with a unisex elastic brace that keeps the user dry. The brace is able to be worn for extensive periods of time, and can even be worn through the night. The clean, dry Elbow Braces provide a fast recovery since any user can wear them nonstop.
"We guarantee that at 88% copper infused Nylon, our Copper United Elbow Sleeve has the highest content available on the market today," said Anthony. "Our high quality fabric can withstand washing and will never lose function, unlike other sleeves for purchase."
Copper United Elbow Braces relieves arms from muscle stiffness, extra soreness, and offers rejuvenating relief from osteoporosis and pain, allow users to perform at their peak in any situation. The brace also stimulates oxygen delivery and promotes better blood flow to accelerate the recovery of injured muscles, joints, arthritis, and tendonitis.
"Tennis players, active athletes, and everyday people can benefit from the safe, clean, and odor-free support of our Elbow Brace," said Anthony. "Spread the word on the availability of this copper technology, and ensure proper healing and pain relief with a Copper Unite Elbow Brace."
Positive testimonies are pouring in on the Elbow Brace's Amazon listing.
"I'm taking this less for the copper and more for the compression, but I love it. It's the perfect "hug" for my tennis elbow problems (upper forearm pain that feels like chronic muscle soreness)," said Amazon Reviewer PJB.
For more information, or to peruse Copper United's Elbow Sleeve listing on Amazon, visit: http://www.amazon.com/Copper-United-Quality-Compression-Support/dp/B01AUANFM4