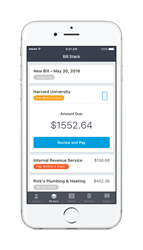 San Francisco, CA (PRWEB) April 21, 2016
Plastiq, the only service that lets you pay any business with your favorite credit and debit cards, today launched a free iPhone app that eliminates every hassle of paying bills. The app is immediately available to download in the Apple App Store.
This new app handles the entire bill payment process, from the moment a bill is received via mail or email all the way through to notifications of payment delivery. Consumers and business owners alike can simply take a photo or screenshot of any bill – and proceed to forget all about them.
From a single picture, Plastiq will identify the biller, their preferred means of receiving payments (check or bank transfer), the amount due, and the payment due date. Then, the app reminds users when the bill is due so you never miss a payment again. Payments are charged to your preferred credit or debit card, even if the biller doesn't usually take cards. Gone are the days of cluttered stacks of bills or mental reminders of due dates.
"No one likes paying bills. People forget to pay them on time, and last year Americans still sent tens of billions of checks in the mail," said Eliot Buchanan, co-founder and CEO of Plastiq. "This is because for many industries, accepting credit cards just doesn't make business sense. We bridge the gap, letting anyone pay any bill with any card, regardless of card acceptance. With our mobile app, we're taking that capability one step further by eliminating the need to ever think about bill payments again."
Credit card acceptance continues to grow, yet that growth is focused on traditional retail and e-commerce transactions – things people buy or shop for everyday. Meanwhile, 80% of household spending in the U.S. is focused not on retail or ecommerce, but on essential life payments and bills. For these industries, including landlords and other household services as well as tuition and utilities, credit card payments are typically not an option for consumers.
In a recent national survey conducted by Plastiq, 98% of consumers reported paying for these types of services by check. Of those, 79% agreed they'd prefer to pay by card.
The survey uncovered key reasons consumers prefer cards to checks, including:

Checks are outside our normal routine: Consumers are now accustomed to making purchases with a swipe or a click. Stopping to write and send a check is a big inconvenience, and responders honed in on mail, with 44% saying they often don't have stamps and another 25% merely saying they hate dealing with mail.
Checks come with some added worry: With personal information like routing numbers and home address being printed on most checks, 28% reported concerns about security. In addition, 48% said they've incurred fees because they forgot to send a check on time.
Checks contribute to marital stress: Of the roughly 1 in 3 married respondents that reported arguing about money, 32% of them specifically fight about their checkbook, including arguments about not being able to find the checkbook, running out of checks, and forgetting to transfer money into the account.
Credit cards bring convenience and freedom: 67% of respondents said the ability to schedule a payment and forget it was a big advantage to credit card payments, 55% cited the ability to earn rewards/miles, and 83% loved the ability to manage online or on their mobile device.
"Time is today's most valued commodity. When it comes to paying bills, consumers have long expressed a preference to pay using the convenience of a card," said Buchanan. "With Plastiq, consumers always have the choice to pay the way they want – for anything from tuition to tax, rent to car payments, and everything in between. Our new app is an extension of our core promise to empower cardholders to choose how they make life's important payments."
In addition to its mobile app, Plastiq also offers bill payment and management online at Plastiq.com.
About Plastiq:
Plastiq makes life's payments simple and seamless. Founded in 2012, Plastiq empowers consumers to pay any bill, vendor, or service provider with any card, regardless of whether cards are accepted. Though based in San Francisco, Plastiq's payment technology serves consumers in the US, Canada, and more than 160 other countries around the world. For more information, visit http://www.plastiq.com.