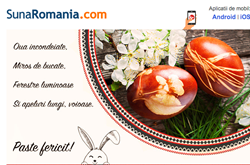 Atlanta, Georgia (PRWEB) April 23, 2016
Romanians worldwide will celebrate Easter on May 1st. To help them get in touch, no matter the country where they currently live, SunaRomania.com offers $3 bonus for any Voice Credit order of minimum $20 placed on SunaRomania.com using the coupon code PA5T3.
The offer is valid starting April 26 until April 28. The $3 bonus represents the cost of 250 minutes of calls to landlines or 103 minutes of calls to mobiles.
For Romanians, Easter is a celebration of life, food & quality time spent together with families and relatives. When living in different countries, the only way Romanians can partly compensate for the distance is by making a long phone call. And this is the purpose of the Easter campaign launched by SunaRomania.com: offer all Romanias free calling minutres that will bring them together, no matter the miles that separate them.
This year, the Orthodox Easter is celebrated on May 1st, which happens to be the exact same day as the International Labour's Day. SunaRomania.com celebrates this event on its Facebook page and customers are invited to remember the funny slogans associated to the Labour's Day communist celebrations that were so famous before the 1989 revolution.
Besides calling, Romanian expats may send a useful Easter gift to their loved ones back home in Romania: a mobile recharge. The international mobile recharge service SunaRomania.com offers allows customers to top up mobiles in Romania. Orange, Vodafone, and Telekom operators are available.
Customers can also use the Virtual Number service, a monthly subscription allowing all Romanian expats living abroad to feel closer to home and receive calls from Romania on their own phone for only $9.99/month.
So, SunaRomania.com offers its customers various services they can use to stay connected to all the great people they left back in Romania and whom they still miss: "I found out about SunaRomania.com from a friend about 7-8 years ago and never used a single calling card to call home since! I rarely have any dropped calls or problems with the connection. Great experience all around. Plus, the fact that my parents can call me anytime on my cell and they pay only a local rate gives me and them great peace of mind that they can always reach me quickly in case of an emergency. [...]" - SunaRomania.com customer, on Trustpilot.com.
About SunaRomania.com
SunaRomania.com is an interactive website designed by KeepCalling, a global telecommunications company registered in 2002 in USA. Presently, KeepCalling provides its services to hundreds of thousands of consumers and businesses, with a focus on customer satisfaction. KeepCalling has been listed by Inc 5000 as one of the fastest growing companies in the USA for 5 consecutive years. In 2015 the company registered a revenue increase of over 200% from 2011 to 2014.