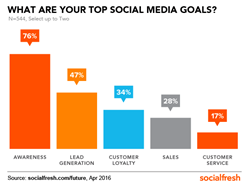 There is a clear connection between software users and a better understanding of social media fundamentals.
New York, NY (PRWEB) April 21, 2016
19 out of 20 of social media software users report positive ROI from social media. However, only 50% of those not identifying as using social media software report a positive ROI.
That's just one of many findings from Social Fresh's The Future of Social Marketing Report, which surveyed 551 digital marketers this past March. The study was completed in collaboration with research partners Firebrand Group and Simply Measured.
"Social media software has reached a maturity that positively augments the efficiency and real return for digital marketers," says Jason Keath, Founder of Social Fresh Conference. "Software is no magic bullet, but there is a clear connection between software users and a better understanding of social media fundamentals."
Among the report's other key findings:

Awareness is the top social media goal among digital marketers, with 76% reporting it as one of their top 2 goals
Despite far more respondents reporting Twitter as a superior social network for results vs. Instagram (63.5% to 40.1%) currently, there is more interest in spending money on Instagram than on Twitter in the next year.
45% of digital marketers plan to hire more social media personnel this year, which may prove difficult, as 80% say it is difficult to find qualified social marketing candidates.
The newly-released report includes commentary from IBM, Sony Europe, Priceline, Anheuser-Busch InBev, Amazon, and many others, with most of the analysis done by Keath and Jeremy Goldman, Founder & CEO, Firebrand Group.
"We have definitive viewpoints about the future of social media, based on fundamentals. But, it's important that we hear from marketers in the trenches, especially decision makers on the brand-side," said Goldman. "From learning how many marketers are outsourcing their social media advertising or how many brands see a positive ROI from Snapchat, it's critical that we hear from senior practitioners and present findings that are truly actionable."
To access the detailed paid report, or the free synopsis report, please visit http://socialfresh.com/future.
ABOUT SOCIAL FRESH: Social Fresh is a social media training and education company comprised of a community of industry leaders, disruptors, and strategists. We know that inspiration is essential to education and everyone has the capacity to be more creative. SocialFresh.com and Social Fresh Conference provide actionable marketing resources to help businesses drive ROI. Attendees return each year for high-level content and the best networking in the industry.
ABOUT FIREBRAND GROUP: An award-winning NYC-based collective of experienced strategists, creatives, marketers, and storytellers, Firebrand Group provides beautiful and forward-thinking solutions to business objectives. The firm brings an insightful approach to innovative global brands and startups alike. Our tendency to ask "what if" allows us to break new ground with each and every one of our partners.
ABOUT SIMPLY MEASURED: Simply Measured is the most complete social analytics solution, empowering marketers with unmatched access to their social data to more clearly define their social strategy and optimize their tactics for maximum impact.