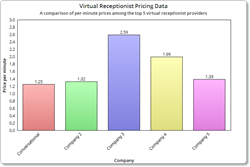 That's why we're leading the industry, and that's exactly what we'll continue to do
San Francisco, California (PRWEB) April 23, 2016
Conversational, a virtual receptionist and call answering service provider, recently conducted a market-wide pricing survey to identify the industry average price per minute for virtual receptionist services. In the pricing survey, 5 of the most popular companies in the industry were included.
The survey examined the most recent pricing data available from the top 5 virtual receptionist providers. With prices per minute ranging from $1.25/minute to $2.59/minute, most price points in the market were covered in the survey.
The companies typically offered virtual receptionist and call answering plans that included between fifty to one hundred minutes on their entry level plans that were examined. Most companies offered an additional per-minute discount on their Business and Enterprise level packages.
The pricing data collected and analyzed for all companies was current as of April 19th, 2016. Historical pricing data for each company was accessed using cached website screenshots.
According to the results of the pricing report, Conversational currently offers the best per-minute value amongst the top 5 virtual receptionist providers.
While offering a similar menu of services as the other companies examined, Conversational's per-minute pricing was found to be:
● 5.6% cheaper than Company 2
● 11.2% cheaper than Company 3
● 59.2% cheaper than Company 4
● 107.2% cheaper than Company 5
Conversational's CEO, Tanya Lamont, expected the results of the market-wide pricing report to reflect her company's reputation as providing the best value in the industry, and shortly after viewing the results she released the following statement:
"Our passion is in serving small businesses. Many of these businesses can't afford expensive cal answering services with hidden startup fees and add-ons that drive prices through the roof.
If we are truly here to serve America's small businesses, we must ensure we offer affordable prices while never compromising on excellent service. That's why we're leading the industry, and that's exactly what we'll continue to do," she noted.
Conversational's pricing structure offers three levels of virtual receptionist and call answering support for all types of business owners and entrepreneurs: the Starter, Business, and Enterprise plans. The plans range in price from $1.25/minute on the Starter plan at 100 minutes per month to $1.05/minute on the Enterprise plan at 500 minutes per month.
Recently, all Conversational plans were updated to include booking and appointment services, including appointment reminder calls that were proven to reduce appointment "no shows" by up to 75%.
Additionally, all plans include email delivery of messages and voicemails, warm call transfers, and unlimited talk time after transfer. The company offers additional or overage minutes at $1.50/minute, as well as the option to retroactively upgrade to another plan to avoid an overage charge.
After a fellow major virtual receptionist provider suddenly shut down, laying off more than 500 employees, in August 2015 due to "financial constraints" and pricing structure issues, Conversational found it necessary to be more attuned than ever to the demands of the market and the needs of the consumer. The company regularly reviews its pricing structure and plan offerings to ensure they can continue to adequately meet consumer needs.
For more information about Conversational, please visit:
https://www.conversational.com
For Media Inquiries, please contact:
Conversational
(855) 933-3826