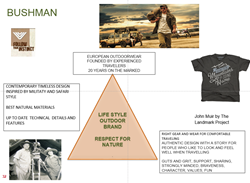 Clothing by Bushman Expedition Outfitters makes individuals ready to meet the wilderness and experience outdoor adventures.
New York (PRWEB) May 23, 2016
Bushman Expedition Outfitters, designers of durable and functional outdoor wear, announces the launch of an online store for current and new customers in the United States of America. Founded in 1997 in the heart of Europe, the company has a long tradition of creating clothing and accessories for outdoor adventurers who love to explore the world. Made to last, the products give its wearers confidence and connects them to nature. The online store will launch in May, 2016.
"We are thrilled to open our online store for US customers, which will offer our top quality outdoor, travelling, and expedition clothing," said a Bushman Expedition Outfitters representative. "Our collections are designed for demanding, independent and individualistic travelers who like comfortable clothes with technical and practical details."
Upon his return from a three year expedition to the wilderness in Australia, Canada, New Zealand and other lands, Indy Melichar had ideas for the creation of improved outdoor wear. Thus, Bushman was founded, and for almost 20 years, the expert team has been developing, improving and inventing practical features, which make the outdoor clothing and equipment designer one of the best in the market. All clothes produced by the company are made of mostly natural materials that are time-tested, such as cotton, wool, flax, bamboo and leather. Because all products consist of mostly natural and recyclable materials, the use of Bushman clothes helps to minimize one's ecological footprint.
Inspiration from explorers, safari travelers and military agents have provided Bushman Expedition Outfitters with the most comfortable cuts and top technical features. Every piece is made with utmost craftsmanship and the company was one of the first to adopt advanced triple sewing into its practices. Due to Bushman's strict durability requirements, a purchase made on the new website could last an individual for decades.
Clothing by Bushman Expedition Outfitters makes individuals ready to meet the wilderness and experience outdoor adventures. Pieces have been designed to make the wearer look great at every moment while moving between urban and extreme wilderness environments. The Bushman brand means comfort, attractiveness, durable, timeless and natural.
Bushman clothing is an adventurer's companion that allows its wearer to enjoy travel and leisure time without worry. Before planning a hiking trip, camping trip or vacation, visit http://us.bushmanwear.com/ to view hundreds of outdoor clothing and accessory products.
About Bushman Expedition Outfitters
Bushman Expedition Outfitters offers men and women durable and timeless clothing and accessories for outdoor activities. Headquartered in the Czech Republic, the expedition shop has a growing presence throughout the world. Outdoor clothing and accessories by the designer have become popular throughout Europe. In 2016, the clothing creator opened a new online store in the United States of America. To learn more about the unique features that are incorporated into the outfitters' style, visit http://us.bushmanwear.com/our-story/our-products. Visit them on Facebook and Twitter.