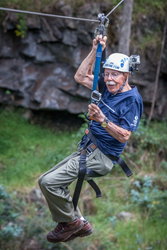 "My favorite part of the zipline is jumping off and accelerating," said Glesne.
Maui, Hawaii (PRWEB) April 22, 2016
Skyline Eco-Adventures, Hawaii's award-winning zipline company and operator of the first zipline course in the United States, hosted its oldest-ever zipline participant at its Haleakala location to mark his 100th birthday.
Nels Gerhard Glesne, a Maui resident, completed all five lines of the course, which includes towering eucalyptus trees, 90 ft. drops and a swinging bridge in beautiful upcountry Maui. The course typically takes two hours to traverse.
"My favorite part of the zipline is jumping off and accelerating," said Glesne. As a new centenarian, he took his first ever zipline selfie with a handheld GoPro.
Glesne, who was born in 1916 in Aberdeen, South Dakota, is a World War II veteran and retired forester. He moved to Maui in August 2013 and has three daughters, one son, seven grandchildren and four great-grandchildren. Nearly all of whom accompanied Glesne on his birthday zipline adventure. Glesne was married for 69 ½ years.
Glesne planted thousands of trees while working in forestry. After completing the zipline course, he planted a native Hawaiian ʻōhiʻa lehua tree with his family to commemorate the occasion.
Glesne celebrated his birthday with another special experience. Shortly after moving to Maui he was introduced to the sport of kiteboarding by his son Tom, a passionate kitesurfer. Since then, Glesne was interested in giving it a try. Rather than using a standard kiteboard, Glesne hit the waves for a birthday bash on the water in a small custom catamaran with his son and instructors.
Glesne is also an avid tennis fan who started playing the game at the end of World War II. He still plays doubles four times a week. "Any day on the tennis court is like Christmas," said Glesne. His philosophy is to just keep moving.
Skyline Eco-Adventures is a leading commercial zipline company that thrills more than 90,000 guests annually with "knock-your-socks-off" experiences. Skyline operates two Maui zipline tours at Ka'anapali and Haleakala, in addition to the Akaka Falls Skyline Adventure on Hawaii Island, and the Poipu Skyline Adventure on Kauai. Call (888) TO-GO-ZIP or visit http://www.zipline.com.
Additional high resolution images and video are available upon request.