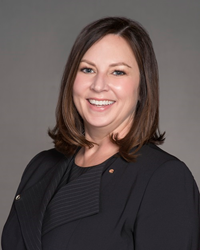 Dallas, Texas (PRWEB) April 21, 2016
Each year, D Magazine issues a list of the "Best Lawyers in Dallas" based on nominations received from attorneys across Texas. This honor is earned by peer recognition as being considered 'the best' in a specific practice area. Ashley McDowell, a partner at Verner Brumley McCurley Mueller Parker P.C., was selected to the list this year in the Family Law section.
Ashley McDowell has dedicated her practice to assisting families going through divorce. She uses her common sense approach and ability to see the big picture to help her clients reach agreements that benefit the entire family. This approach has earned her recognition from peers and the community. Ashley is Board Certified in Family Law by the Texas Board of Legal Specialization, a mark of excellence and a distinguishing accomplishment. In Texas, fewer than 10% of attorneys have demonstrated the substantial, relevant experience and special competence to achieve this designation.
"Ashley's recognition as an outstanding attorney in family law is well deserved and we are all very proud of her accomplishment," says Jim Mueller, managing partner of Verner Brumley McCurley Mueller Parker. "I am lucky to have her as a partner and our clients are lucky to have her as their lawyer."
To compile the list of the "Best Lawyers in Dallas," D Magazine asked lawyers in Texas to nominate two lawyers outside their firm and one within their firm, keeping the following question in mind: "Which Dallas lawyers, of those whose work you have witnessed firsthand, would you rank among the current best?" After the votes were tallied, a panel of eminent lawyers met with the publication's editors to evaluate the "Best Lawyers in Dallas" 2016 list.
Verner Brumley McCurley Mueller Parker P.C. practices family law throughout Texas with offices in Dallas and McKinney. Our attorneys handle a variety of family law matters in litigation, by trial and on appeal. We also prepare premarital and post-marital agreements and conduct mediations. The firm's attorneys and support staff combine diverse experience and complementary talents with technology to provide clients with attentive and efficient service. For more information visit http://www.vbmmp.com.
SOURCE: Verner Brumley McCurley Mueller Parker PC