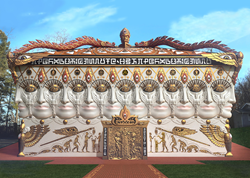 "The Chapel of Sacred Mirrors will bring you face to face with your soul and move you to a new level of enlightenment." –Deepak Chopra
Wappinger, NY, (PRWEB) May 03, 2016
Entheon, a sanctuary of Visionary Art, is currently under construction in New York's beautiful Hudson Valley. Co-founders Alex Grey & Allyson Grey announced today that the Chapel of Sacred Mirrors is raising funds via a crowdfunding campaign on Kickstarter.com to complete the three-story, 12,000 square foot inspiring Entheon exhibition.
Entheon will display precious paintings, drawings, sculpture and moving images that express the highest mystic states of human consciousness. Grey's acclaimed Sacred Mirrors series will be displayed in a cathedralesque room with latticework ceilings and archangels. CoSM's target is to raise $77,000 on Kickstarter to complete the interior exhibition spaces, and initiate the unique sculptural countenance of Entheon. Exterior sculptures are expected to be added over time as funding allows. The interior exhibition of Entheon is planned to open Autumn of 2017.
Alex Grey collaborated for two years with Academy Award Winning of 3D Animator, Ryan Tottle [Frozen & Zootopia] to transform Alex's drawings of Entheon into a 3D model that will be printed out and cast in concrete to form the countenance of Entheon.
Construction of Entheon began in the Autumn of 2014. With the exterior walls and roof on, CoSM is now completing the interior spaces. The first gallery of Entheon will exhibit original artwork by leading masters of the International Visionary Art Movement.
Seven galleries in Entheon will exhibit Grey's beloved and transcendental masterworks including Theologue, a fifteen-foot-long icon of meditation, Net of Being featured on the album of Grammy award winning band TOOL, and Allyson Grey's Jewel Net of Indra.
In the Chapel of Sacred Mirrors, the nineteen paintings and two etched mirrors of the Sacred Mirrors Series will inspire visitors by representing the stages of the self, transforming from the physical body into pure infinite love energy.
Chapel of Sacred Mirrors (CoSM), founded in 1996 by Visionary Artists Alex Grey and Allyson Grey, is a cultural center celebrating creativity as a spiritual path. For over twenty years, CoSM's mission has been to build an enduring sanctuary of visionary art, to inspire every pilgrim's creative path and embody the values of love and perennial wisdom.
The paintings of Alex Grey articulate realms of psychedelic visionary consciousness, revealing interwoven energies of body and soul, love and spirit, illuminating the anatomical core of each being. Alex's visual meditations on the nature of life and consciousness, the subject of his art, have reached millions through his five books, the exhibition and extensive reproduction of his artwork, speaking appearances including a popular TED talk, stage sets for major rock bands, video animation, and Grammy award winning album art. http://www.alexgrey.com
Allyson Grey, MFA, is a painter, social sculptor, and Alex's creative collaborator, life partner and studio mate since art school in 1975. Allyson's paintings essentialize a world view of chaos, order and secret writing: the material world, the interconnected realm of energy + light and the sacred symbols of creativity. Through private consultations and her blog on art and life, "Ask Allyson," she serves as a muse to artists worldwide. http://www.allysongrey.com