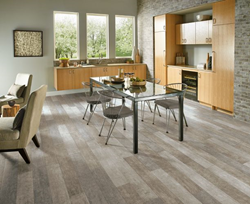 Taking home top honors in our product categories is a testament that our unwavering focus on design, quality and consumer-driven innovation is resonating with our customers.
(PRWEB) April 25, 2016
Armstrong Flooring proudly announces it has won four individual Dealers' Choice Awards – the floor covering industry's top awards – and is the only brand to have products recognized across the breadth of its product portfolio. The winning product lines are Artistic Timbers™ Hardwood - TimberBrushed™ and TimberCuts™ collections; Vivero™ luxury flooring; Architectural Remnants laminate; and Two-Step resilient sheet.
The annual Dealers' Choice Awards are sponsored by one of the industry's leading trade publications, Floor Covering Weekly. Voting took place during the Surfaces flooring industry trade show, where retailers from across the nation cast their ballots.
"Armstrong's Dealers' Choice win across four product categories – laminate, hardwood, LVT and resilient sheet – is one of only two times in the 20 year history of this contest that any one company has swept so many categories. With 1,445 retailers voting for best product at the show, it is an impressive win," said Santiago Montero, Publisher & Editor in Chief, Floor Covering Weekly.
"These awards are significant to us because they were voted on by dealers. We work hard every day to be our customers' preferred choice for hardsurface flooring, so taking home top honors in our product categories is a testament that our unwavering focus on design, quality and consumer-driven innovation is resonating with our customers," said Joe Bondi, Senior Vice President-North America Residential.
Recognized in the Hardwood category, two new lines, TimberCuts™ solid and TimberBrushed™ engineered floors, reflect the beauty of hand-crafted artisanship with abundant rustic charm and distinctive character. Armstrong Flooring brings the premium wood trend into the mainstream in these two stunning, low maintenance collections.
Taking top honors in laminate, the popular Architectural Remnants collection pairs the exquisite look of high-end, reclaimed hardwoods with diverse species, colors and realistic rustic textures.
The new Two Step line, first-place winner for resilient sheet, offers new designs in both urethane and non-urethane collections, including lightweight and flexible Flexstep™ (fiberglass), durable StrataMax™ hi-performance vinyl (limestone) and Initiator™/Station Square™ (traditional felt). Two Step is manufactured in the United States at Armstrong Flooring facilities in Stillwater, OK and Lancaster, PA.
And, in the luxury vinyl category, Armstrong's newest innovation, Vivero™ luxury flooring, took top honors. Vivero™, featuring patent-pending Diamond 10™ Technology made with cultured diamonds, offers beauty that will stand the test of time and traffic and keep floors looking newer longer. The floor planks repel spills and resist dirt and staining. The planks are 100% waterproof, pet friendly and kid friendly. Patent-pending IntegriLock™ system assures easy, reliable installation. The floors are made at the company's newest manufacturing facility in Lancaster, PA.
Armstrong Flooring, with a proud 150-year heritage, is one of the leading and most trusted brands in flooring, dedicated to designing innovative flooring solutions that inspire great spaces. The company offers hundreds of beautiful floors for every room and lifestyle, including solid and engineered hardwood, laminate, luxury vinyl, vinyl sheet and vinyl tile. For more information, visit ArmstrongFlooring.com.
###
Armstrong Flooring, Inc. (NYSE: AFI) is a global leader in the design and manufacture of innovative flooring solutions that inspire spaces where people live, work, learn, heal and play. Headquartered in Lancaster, Pa., Armstrong Flooring is the #1 manufacturer of resilient and wood flooring products across North America. The Company safely and responsibly operates 17 manufacturing facilities in three countries and employs approximately 3,700 individuals, all working together to provide the highest levels of service, quality and innovation to ensure it remains as strong and vital as its 150-year heritage. Learn more at http://www.armstrongflooring.com.