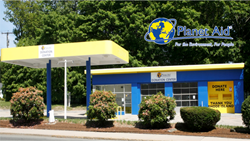 Newport, RI (PRWEB) April 21, 2016
International nonprofit Planet Aid announced today that, in honor of Earth Day, it is encouraging Rhode Island residents to go green by hosting a large donation drive. The event will be held at the Planet Aid Donation Center in Newport.
Those who wish to de-clutter their house in an environmentally friendly way are invited to bring their unwanted belongings to the Newport facility on April 23rd between 8 a.m. and 6 p.m.
Planet Aid regularly accepts clothing and textiles through its network of yellow donation bins and via pre-arranged curbside pickup in the Newport Area. The organization then recycles or repurposes these donations and uses the proceeds to support sustainable international development projects in the world's poorest communities.
Even the Donation Center itself has been repurposed. Formerly a Sunoco gas station, today the warehouse collects thousands of pounds of clothing a day.
During this Earth Day donation drive, Planet Aid welcomes the community to drop off kitchenware, tools, baby items, electronics, small appliances, and other household items that might otherwise end up in a landfill. TVs, furniture and large appliances cannot be accepted.
Rhode Island's Planet Aid Donation Center is located at One Mile Corner, 533 Broadway, Newport, RI 02840.
About Planet Aid
Planet Aid is a U.S. 501 (c)(3) nonprofit and is registered with USAID as a private voluntary organization. It collects and recycles used clothing and shoes as part of its environmental mission. The net proceeds from its 21-state recycling operation help to support projects aimed at eliminating poverty. Since its inception in 1997, Planet Aid has provided more than $100 million to support projects on three continents. Planet Aid supports programs in education, teacher training, nutrition and agricultural and economic development.