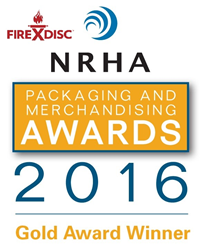 Houston, TX (PRWEB) April 21, 2016
FireDisc® products are in a league of their own, vetted by everyone from renowned chef's to avid outdoor enthusiasts. This attention to detail and commitment to the creation of pinnacle product designs does not end with their grills and accessories. Guided by the vision of brother entrepreneurs, Griff and Hunter Jaggard, even the brand's point-of-purchase displays are painstakingly designed by innovators who think out of the box in order to develop marketing tools that surpass retailer and consumer needs. This meticulous approach is paying off in the form of a 2016 NRHA Gold Packaging and Merchandising Award for best retail display – the brainchild of FireDisc® designer, creative director and tattoo artist – Garner McCulloch.
The NRHA 2016 Packaging & Merchandising Awards will be held on May 4, 2016, during the National Hardware Show at the Las Vegas Convention Center. Winners will also be recognized in the May 2016 issue of Hardware Retailing magazine.
Judging criteria includes:

Attention-Capturing Ability
Graphic Design
Innovation
Material Usage and Selection
Informational Value
"The Gold Award winners in this year's Packaging and Merchandising Awards competition demonstrated a superior level of excellence," says Hilary Welter, member services and communications coordinator at the North American Retail Hardware Association. "Each entry was thoroughly evaluated by a panel of industry expert judges whose scores determined top rankings."
FireDisc Display Innovations & Sell-Through Success
The award-winning FireDisc moveable display design is a reflection of the brand's commitment to uncovering the customized needs of each retailer, researching their target end-consumer and delivering marketing tools that address both head-on. Once fluent in the store environment needs and target customer end-uses, the FireDisc fixtures are branded accordingly. Fixtures are embedded with potent educational video marketing messaging that syncs directly with the local target market and their specific uses. Whether buying a FireDisc in preparation for an epic ice fishing adventure, surf getaway, or for a backyard family reunion – FireDisc's display can showcase the appropriate creative and messaging assets to suit. This flexibility of marketing message, coupled with the display unit's mobility has catapulted sell-through for retailers increasing turns by an astounding fifty percent.
About FireDisc® Creative Director, Garner McCulloch
Houston-based, FireDisc designer, Garner McCulloch's advertising, graphic design and illustration experience spans 20 years and as many industries. McCulloch's unique designs surface in the form of tattoos, photography, logos, print ads, brochures, posters, trade show materials, web designs, and television and radio commercial productions. You name it, he's created it, and likely nailed an award for it. McCulloch has achieved 15 Addy Awards to date and can now add the NRHA Gold to his line-up.
About FireDisc® Grills:
Texas-based FireDisc® Grills specializes in the design and manufacturing of the world's most the innovative, high-quality and versatile outdoor grills and accessories. The company was founded by two entrepreneurial brothers, Griffin and Hunter Jaggard, who, armed with a makeshift tractor plow disc set out on a mission to build a grill worthy of everyone from the world's top chef's to hunters, backyard family grill masters, tailgaters and campers. FireDisc® Grill products are currently sold nationally via 500+ retail locations in over 31 states and online throughout the globe.
Heavy-duty carbon steel construction render the grills indestructible, while meticulous designs yield convenient portability and ease-of-use. A rigorous "Chef-tested/Chef-Approved" quality assurance program enables the grills to deliver unmatched grilling characteristics, as they have been vetted by some of the world's leading chef's. Prior to their launch of FireDisc® Grills, the founders formed a non-profit to raise money and find a cure for Multiple Sclerosis. To date $1M has been raised via "The Carney Men" Bike MS team. Community involvement is the core of the FireDisc® brand in addition to the National MS Society they are proud supporters of the American Cancer Society, Wounded Warrior Project and many more.
For more information visit http://www.firediscgrills.com
Community Involvement: http://www.firediscgrills.com/company-involvement/
###
Media Contact:
Janine Robertson
Cell: 206-354-9093
firediscjanine(at)gmail(dot)com
http://www.firediscgrills.com