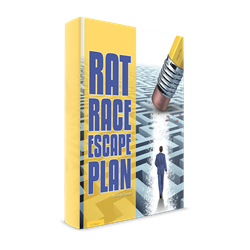 "No investment is good or bad. There are no such things as bad investments, just bad investors. Your investment is a good as you are. Before you get in the stock market you need to get educated."
Scottsdale, AZ (PRWEB) April 24, 2016
The Rich Dad Company announced today that it will be making the eBook titled, "Rat Race Escape Plan," available for download. Written by business owner, investor, and Rich Dad stocks advisor, author, Andy Tanner makes his case for escaping the rat race through the stock market.
When people consider investing in the stock market, they typically think of long-term retirement accounts or other buy-and-hold scenarios. Rarely do they think of the stock market as an opportunity to invest for ongoing cash flow. For an educated investor, the stock market can provide just that. This eBook was written to educate those looking to escape the proverbial rat race to create passive income through stock market investments.
Robert Kiyosaki says, "Long and short positions are a part of technical investing that requires education, but if you want to move beyond being an amateur to being a professional, it's worth your time to learn this."
Anyone can learn to escape the Rat Race. The most important first step is to see what types of investing exist that best achieve one's goal to create passive income. It's not free money; it will require work.
"No investment is good or bad. There are no such things as bad investments, just bad investors. Your investment is a good as you are. Before you get in the stock market you need to get educated," says Kiyosaki.
The Rich Dad Company is offering a free download of "Rat Race Escape Plan" on its website for a limited time through April 30, 2016. Readers can access their copy here
About Rich Dad Operating Company
Best known as the author of Rich Dad Poor Dad – the #1 personal finance book of all time – Robert Kiyosaki has changed and challenged the way the tens of millions of people around the world think about money. His book title holds four of the top ten spots on Nielsen Bookscan List's Lift-to-Date Sales from 2001-2008 alone. In addition, Robert has been featured on shows such as Larry King Live, Oprah, The Doctors, Bloomberg International Television and CNN. Visit http://www.Richdad.com or more information.