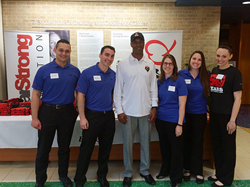 We are learning that hearing loss education is essential. Our partnership with EarQ allows us to educate the general population on this issue and on the significance of their own hearing needs -Andre Collins, Executive Director of the NFLPA's PAF
Dallas, Texas (PRWEB) April 22, 2016
The NFL Players Association's Professional Athletes Foundation and EarQ took their efforts to Dallas, TX on April 19th to further their research into the connection between hearing loss and professional football players. The partnership has addressed playing career related hearing loss for over five years.
Initial findings reflected a growing need for hearing health services as former players show an above average incidence of hearing loss at an early stage in their lives. EarQ and the NFLPA strive to improve the quality of life for former players by treating and maintaining their hearing health.
During this event, former players were screened for hearing loss and fit with devices to improve their hearing. With the data collected, The NFLPA and EarQ are also closer to identifying what preventative measures can be taken moving forward.
The NFLPA sees the importance of this program as the correlation between pro football careers and hearing loss becomes more evident.
"We are learning that hearing loss education is essential" said Andre Collins, Executive Director of the NFLPA's Professional Athletes Foundation, "Our partnership with EarQ allows us to educate the general population on this issue and on the significance of their own hearing needs."
About EarQ:
A prestigious nationwide network of independent hearing healthcare providers, EarQ utilizes innovative business and marketing practices as well as national public awareness efforts to advocate for excellence in the industry and patient care. Through its 1,400 hearing healthcare provider locations nationwide, EarQ helps provide greater access to quality hearing healthcare services and products.
About the NFL Players Association:
The National Football League Players Association (NFLPA) is a non-profit, professional sports union that protects the best interests and welfare of all NFL players. It serves as the exclusive bargaining agent for all NFL players in collective bargaining. Established in 1956, the NFLPA has a long history of assuring proper recognition and representation of players' interests. The NFLPA is governed by a Board of Player Representatives, acting in accordance with the NFLPA Constitution and federal labor laws. The NFLPA's responsibilities include: Representing all players in matters concerning wages, hours and working conditions and protecting their rights as professional football players; ensuring that the terms of the Collective Bargaining Agreement are met; negotiating and monitoring retirement and insurance benefits; providing other member services and activities; providing assistance to charitable and community organizations; enhancing and defending the image of players and their profession, on and off the field. For more information, visit https://www.nflpa.com/