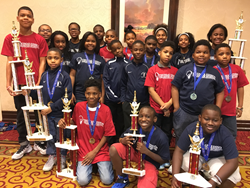 Wilmington, Delaware (PRWEB) April 22, 2016
Thomas Edison Charter School, where close to 90% of the students live at or below the poverty level, won their second national chess championship in Indianapolis, Indiana on April 17, 2016. Our students won their first national chess title in Dallas, Texas in May 2014. We are the first and only school in Delaware's history to win a national chess championship. Our students come from some of the most impoverished areas in the state, yet they gain acceptance into some of the best private and public high schools in Delaware.
The United States Chess Federation (USCF) National Junior High Chess Championship brought nearly 200 school teams and over 1000 of the best scholastic chess players from around the nation to Indianapolis. The winning team from Thomas Edison included the national champion in his section, Eric Farrell, an 8th grader, who scored a perfect 7-0 (rarely done). Two other team members, Nicholas and Jonathan Irving (brothers) scored a resounding 6-1 to finish tied for 4th place in the nation in their division. Edison is also the home of one of the most successful and feared all-female chess teams in the country. The Mighty Knights have won multiple state and regional championships. One team member, Madalyn Yates, was selected by the USCF as one of the top 50 twelve-year-old female chess players in the nation.
The school and winning team is led by Principal Salome Thomas-EL, award-winning author of two books, "I Choose To Stay" (optioned by Walt Disney) and "The Immortality of Influence" (foreword by Will Smith). Principal EL has appeared on C-SPAN, CNN, NPR, Oprah Radio and The Dr. Oz Show.