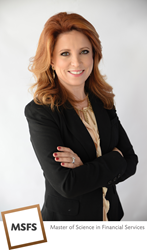 El Paso, TX (PRWEB) May 06, 2016
Elizabeth Dipp Metzger from the El Paso General Office of New York Life has earned the Master of Science in Financial Services (MSFS) degree from the Richard D. Irwin Graduate School at The American College in Bryan Mawr, Pennsylvania.
The MSFS degree program provides a diverse financial education that prepare graduates to advise their clients on a wide spectrum of financial planning needs. MSFS course topics include advanced pension and estate planning, financial planning, executive compensation, business and personal tax planning, security analysis and portfolio management, and financial statement analysis. The program includes practical case studies and client/practitioner scenarios that graduates can use immediately to help them address clients' needs with expertise and confidence.
Candidates for the MSFS must successfully complete 36 credits of individual and residency study and pass 12 rigorous examinations. The American College's Richard D. Irwin Graduate School has awarded the Master of Science in Financial Services degree to over 2,500 individuals since 1977.
Mrs. Metzger is proud to be a Financial Adviser through Eagle Strategies, an Agent of New York Life Insurance Company, and a Member Agent of The Nautilus Group which is a service of New York Life. She was born in El Paso, TX and currently resides there as well. She is fluent in Spanish; and she serves her local community as well as transnational clients in the U.S and Mexico.
As a Financial Adviser, Mrs. Metzger provides clients with an integrated investment and insurance strategy focused on maximizing value over the course of their lifetime. She enjoys helping people meet their financial goals. With experience as an adviser and over 10 years of previous experience as a business owner, Mrs. Metzger understands the financial challenges most individuals and business owners face today and works diligently to research and provide the right solutions for them.
The American College is the nation's largest non-profit educational institution devoted to financial services. Holding the highest level of academic accreditation, The College has served as a valued business partner to banks, brokerage firms, insurance companies and others for over 86 years. The American College's faculty represents some of the financial services industry's foremost thought leaders. Visit TheAmericanCollege.edu.
SMRU # 1688993